Building blocks: CHS works with schedule to find perfect fit
How do CHS students feel about the different schedule experiences?
The classes of 2020 through 2025 have had very different experiences in high school. These perspectives were shaped by a pandemic and its implications. One of the main changes in the daily lives of students due to COVID-19 wasn't masking up or blocking off water fountains; it was the implementation of a new schedule.
Recently a block schedule was introduced, completely changing the length of classes and the number of classes CHS students have in a day. 
This year's school schedule is unlike past years' in many ways. Not only are the students spending more time in each class on a day-to-day basis, but everyone also has lunch during the same class period, simply at different times.
Prior to the pandemic, the high school ran on a 7-period schedule, where each class would meet each day for 50 minutes. Study halls, PE classes, and health and safety ed classes would rotate based on the day of the week. Occasionally, the schedule would adjust to create a club period, in which everyone would go to an assigned classroom for a selected activity period, such as Disney Movie Club or Chess Club.
Yet, when COVID hit, everything had to change.
Last year, the school was divided into two groups, A and B. On A days, those assigned to the A group were in person and the B group was online, and vice versa on B days.  On Wednesdays, the whole school would be online, with asynchronous assignments and Zoom meetings. The changes were mainly attributed to COVID-19 protocol. The administration tried to limit how much time we spent in the halls and around each other. 
While a block schedule was first introduced last year, this year's schedule took on new complications with rotating study halls, health, and PE classes.  Now there are three classes along with a Bison Block one day and four classes the next. Depending on their teacher's schedule (and what the student has 3rd and 6th period), the assigned lunch period can also change from day to day.  
The student body has had mixed reactions to the newly imposed schedule. 
"[I liked that in the seven-period schedule] we had shorter classes and all of them in one day," junior Maria Shay said. 
Some students think the new schedule is confusing or difficult to understand, especially in the way that classes and lunches change. On a positive note, the extended class time gives teachers more time for instruction. 
When asked about what's best about block scheduling, junior Colby Williams said, "Because each of the classes is longer and you can do things you love."
Based on a recent survey administered by CHSPeriscope, the block schedule seems to be the preferred option out of them all.  Out of the 88 students who voted, forty-one of them voted for the block schedule, thirty students voted for the seven-period schedule, and twelve voted for the hybrid A and B schedule.
But the question is, which schedule is more beneficial for the student body?
Recently, a schoolwide survey was also administered and all students had the opportunity to give feedback. Based on student input, the majority likes Bison Block and finds it helpful. Thirty five percent of students prefer the current schedule, and thirty two percent prefer the seven period day schedule more. 
What do you prefer? Share your response in our poll below. If you'd like a chance to win a FREE Periscope t-shirt, tell us more in the comment section. Sorry–open only to current CHS students and staff.
Which schedule do you prefer?
Sorry, there was an error loading this poll.
View Comments (2)
Want to help the Herd? Please consider supporting the Periscope program. Your donation will support the student journalists of CHS and allow us to purchase equipment, send students to workshops/camps, and cover our annual website hosting costs.
About the Writer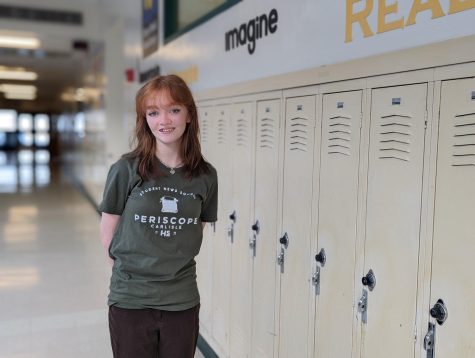 Rylie Workman, Staff Writer
Rylie is a freshman at Carlisle and this is their first year in the Periscope staff.  They finds joy in being around friends, writing, and staring at...