Shaping the world: Empty Bowls (Video)
This video was originally broadcast on Herd TV on February 22, 2022.
2/28 UPDATE: The bowl sale has been extended to March 18. To order a bowl, click here. 
[Transcript]
Empty Bowls is the annual tradition here at CHS. Here's Megan Swahlon with more info on how you can help:
Hands-on creativity goes down in the art hallway at Carlisle High School. Students and faculty are making bowls out of clay to help support the Carlisle community.
"So, Empty Bowls is a grassroots organization," CASD art department chair Ashley Gogoj said.  "It's actually like a nationwide program where people create bowls out of ceramics and then sell them. And often they come with a bowl of soup in them. And then they- all the proceeds go to a local food bank. We copied the idea from the Carlisle Arts Learning center, so for a while, they had been, every year creating bowls and having a big soup event at Dickinson college and selling them for Project Share. So, this was a way we could also support their efforts, and do it on a little bit of a smaller scale at the High School."
Empty Bowls workshops had been held at Carlisle High School for 12 years. Over time, the way the workshop functions has changed.
"Pre-COVID I hosted them on Saturday mornings and we had people from the community, so we had 3-year-olds and we had 70-year-olds and it was a little chaotic," Gogoj said.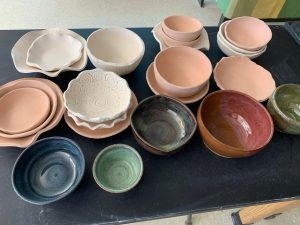 "Over the years, we've evolved it a little bit and because of COVID, we haven't been able to serve food," said National Arts Honor Society adviser Rachel Drumheller. "So, currently the last few years we've been doing more of a sale. For students, the bowls are $5, for adults the bowls are $10."
"We've just had [a workshop] after school, that I actually thought went really well," Gogoj said.  "We had a full room of people creating bowls, but it was a little bit less chaotic, and I think it provides people with a little bit more direction at the how to create. Because there were just too many people to really be able to help support them, so I think in the future this is probably a thing we will continue doing it after school."
All students are welcome, no matter their art capabilities.
"My favorite part about Empty Bowls is making so many different types of bowls, different sizes, different designs on them," student Coleman Miller said. "It's really fun to just get your hands on it."
Participants hope that using their hands helps shape the community, also help[ing] to create a mold for the rest of the world to follow.
Leave a Comment
Want to help the Herd? Please consider supporting the Periscope program. Your donation will support the student journalists of CHS and allow us to purchase equipment, send students to workshops/camps, and cover our annual website hosting costs.