Waiting for the spotlight: Highlighting the arts and music departments at CHS
Music and the arts have always been a way for people to express themselves and at CHS, this shines through our creative departments. From performance and visual arts, the talented students of our school are glowing as they get ready for some of their spring events. 
Want so support these groups but not sure what's going on? No worries, Periscope is here to guide you through the upcoming artistic endeavors of CHS!
The Spring Musical
This year's spring musical is in full swing as the cast and crew gear up for their performance. This year's production of choice, directed by choir director Dan Schade, is The 25th Annual Putnam County Spelling Bee. Shows will be held in the McGowan auditorium on February 25-26  at 7:30  pm. As one may assume from the title of it, the show is a musical comedy following students competing in their local spelling bee as they all battle for first place. 
Freshman performer Alyanna Montgomery said, "I hope to have fun. Our most recent tech rehearsal was the best run-through we've had. I'm excited about getting to see everyone there. It's been so long since I've been able to be in a performance where I have little character bits. I'm excited to see everyone who's going to see us perform."
Shakespeare Troupe
Our school's young Shakespeareans are practicing lines and staging the dramatic play A Midsummer Night's Dream. Directed by English teachers Doug Hewlett and  Sue Hench, the play follows multiple stories as magical chaos and romance ensue. It will be performed on April 21, 22, and 23 at 7:00 pm in the Swartz Auditorium. 
When asked what she was excited for, junior performer Liliana Salazar said, "I'm very enthusiastic about the group of people that we have involved. The cast as a whole works really well together, and it's perfect for such a comedic play as A Midsummer Night's Dream." 
Band
The concert and symphonic bands are getting ready for their district showcase concert. Located in the McGowan Auditorium, the March 15 show, headed by band director Byron Mikesell and music teacher Reid Ellinger is going to be a must-watch for everyone. 
Sophomore Micah Austin said, "We work really hard all year and only have a few chances to show it off. I'm excited to demonstrate to people just how much effort we've put into learning our pieces." 
Choir
Choir has an all-district concert on March 1. Directed again by Schade, the students of our school and others are working together and bringing together their beautiful voices to sing some songs that they've worked very hard on. 
When asked what she was excited for, freshman Greta Weirich said, "I'm excited to see the other choirs' performances. I hope that we can show how hard we've worked."
Orchestra
The orchestra is practicing their scales as they prepare for their concert. It will be on March 17 in the McGowan auditorium. Directed by Mr. Kuehrmann, they've been working hard and are hoping that you'll go and watch to show your support. 
When asked how she feels about orchestra this year, senior Lola Gehman said, "We've made a lot of progress this year in terms of what repertoire we're working on, and I'm proud of the ensemble and excited for our next concert."
Wingin' It!
Our school's favorite improv comedy group is rehearsing for their next show. The performance will be held on Wed Mar 9, during our mini Winter Spirit Week (more info to come) in the week leading up to Winter Ball. Gifted teacher Matt Fahnestock and the students have been working hard to make you laugh.
Sophomore performer Sophie Akujobi said, "There's just something that I really admire about the group,[…] I just feel a special kind of warm feeling in my heart when I'm on stage."
Coffeehouse
The talented students of Coffeehouse have been rehearsing for the newest installment of the show "Coffeehouse: The Refill" and it will be performed on March 4 from 7pm in the Swartz Auditorium.  Admission is $3 for students and $5 for adults. The show promises to be a collection of music and poetry performances.
Freshman performer Chase Perabo said, "I hope this Coffeehouse performance can inspire other performers of all ages to express their true selves onstage! This is my first time performing in Coffeehouse, so I'm very excited to experience what it's like."
National Arts Honors Society
The National Arts Honor Society, spearheaded by Mrs. Drumheller, is running an annual fundraiser for Project Share called Empty Bowls. It's located in room F107. Throughout the past couple of weeks, students have been given the opportunity to tap into their artistic sides and create clay bowls to sell to raise money for Project Share. Bowls are $10 ($5 for students) and sales end February 25. 
Indoor Percussion
The Indoor Percussion team has been practicing for their upcoming competitions. Directed by Dustin Smith, the competitions will be located at Conestoga Valley High School and then Hempfield High School (The place of the championships have not been decided yet.) This year's show is called "Open Your Eyes" and the ensemble is going to perform their show while wearing blindfolds. 
Sophomore percussionist Jay Barker said, "I hope all of the hard work we've been putting in pays off and the whole ensemble can pull off a performance we're proud of.[…] I think it's going to be super cool to watch, especially with the blindfolds." 
View Comments(1)
Want to help the Herd? Please consider supporting the Periscope program. Your donation will support the student journalists of CHS and allow us to purchase equipment, send students to workshops/camps, and cover our annual website hosting costs.
About the Writer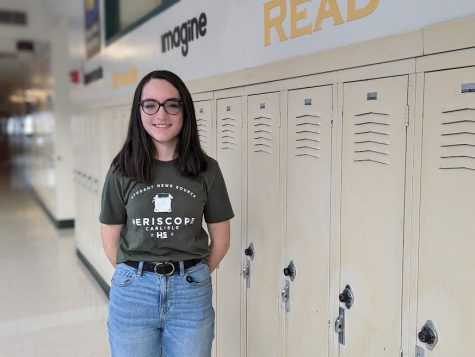 Emma McShea, Staff Writer
Emma is a freshman at Carlisle High School and this is her first year being a member of the Periscope staff. She enjoys musical theatre, watching tv, baseball,...