After black comes green: Small Business Saturday provides opportunities for local businesses
Small Business Saturday will be held on Nov 27 in downtown Carlisle
The Friday after Thanksgiving, the time where everyone pays attention to the big chains with major deals and discounts, Black Friday. Black Friday takes this entice of shopping small. What can communities do to put those local businesses back into light? Small business Saturday holds the answer.
Small business Saturday is an event that gives smaller businesses time to regain the partial traction they lost on Black Friday. In Carlisle, SBS is being held on November 27 and is always held on the Saturday after Thanksgiving. 
SBS, in our community, is organized by Destination Carlisle, a merchant lead, merchant-focused non-profit, which has been awarded "Neighborhood Champion" for Small Business Saturday, as they have been in previous years.
"What that means is we get a box of materials for SBS that we distribute to other businesses if they didn't get some themselves," said Stephanie Patterson, the founder of Destination Carlisle.  "I started doing that as Georgie Lou's more than five years ago and now do it as Destination Carlisle."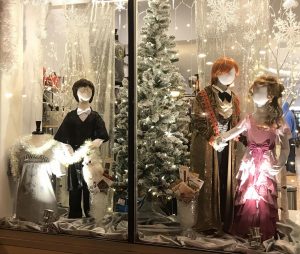 On top of providing materials to local businesses, Destination Carlisle will also post small businesses through their social media and will also hold a Christmas decorating contest that weekend for businesses downtown to encourage window and holiday shopping. For the last three years, Georgie Lou's has done a Harry Potter-themed Christmas window displays, "along with the largest selection of Harry Potter merchandise in the area that we carry. We'll be doing that again this year as well," said Patterson.
Patterson, who is also the owner of a small business herself, goes on to explain why it is still so important to shop small, especially during the holiday season, and still make an attempt to make small business voices heard even when representation in the media has died down.
"It's been a very tough year for small businesses," Patterson said.  "Actually, it's been a rough 18 months, and we are nowhere near 'in recovery' from the effects of COVID on businesses.  We're experiencing labor shortages, rising shipping costs, rising material costs, higher fuel costs, post office delays, supply chain shortages and delays, etc–all because of COVID.  We definitely need as much support as we did from the community back when COVID started.  While many loyal customers continue to support us, that huge push for small business support has quieted, and we need people to remember that we're still here and need their patronage this holiday season and year-round."
Small Business Saturday is also a way to give small businesses a chance to release/reveal their new seasonal items without being overlooked with the rush to big chains.
As for Georgie Lou's Retro Candy, a candy store on 56 West High Street, Carlisle, they will be adding new "Pop Culture loot" and putting some of their older ones on clearance, providing a wide selection and great deals on some. As with having a large section of retro and modern candy, also having "items like pins, magnets, journals, playing cards, zipper pouches, socks and more," said Patterson, making Georgie Lou's a great location for purchasing stocking stuffers.
Miss Ruth's Time Bomb, a vintage thrift store on 24 North Hanover Street, Carlisle, will be hosting a party to kick off SBS including "a live DJ, two pop-up shop vendors, and delicious refreshments," said Sarah Taby, the co-owner of Miss Ruth's Time Bomb.
CALC, Carlisle Arts Learning Center, an arts education program and art gallery on 38 West Pomfret Street, will be starting their holiday season with "a 'Gallery Take-over' by all our member artists selling all manner of small to large fine art and fine craft items, ornaments, prints and note cards perfect for gift giving" said Catherine Stone, the Gallery Coordinator for CALC. "Starting last Friday, November 12, we opened our "Art for the Holidays" for shopping (through Dec. 24)!  The Upper Gallery will have 2 special exhibits during this time.  Through November 27, we present 20 original pastel paintings of Carlisle by Donna Mitchell.  From Dec. 3 – 24, we host a group show by The Seven Lively Artists, founded in 1956 and now a group of 27 plein air and landscape artists."
Denim Coffee, a local coffee shop on 1 South Hanover Street, Carlisle, will be having their "seasonal featured drink, our Pumpkin Spice Latte," said Matt Ramsay, founder for Denim Coffee. 
View this post on Instagram
If you're interested in more events within the Carlisle community or are curious about what other small businesses there are to support in Carlisle any time of the year, Destination Carlisle has information on their website and their Facebook page for upcoming events.
Updated November 19, 2021.
Have you been to one of the small businesses mentioned? Have a local business you want to recommend? Want a free t-shirt? Comment below with your name and email address and you will be entered to win our Periscope t-shirt contest. Sorry–open only to current CHS students and staff.
View Comments (2)
Want to help the Herd? Please consider supporting the Periscope program. Your donation will support the student journalists of CHS and allow us to purchase equipment, send students to workshops/camps, and cover our annual website hosting costs.
About the Contributor
Jillian Grimes, News Editor
Jillian is a sophomore at Carlisle High School, this is her second year being a member of the Periscope staff. She is very excited to return to the staff...