'Banshees of Inisherin': Giving your friend the finger (Review)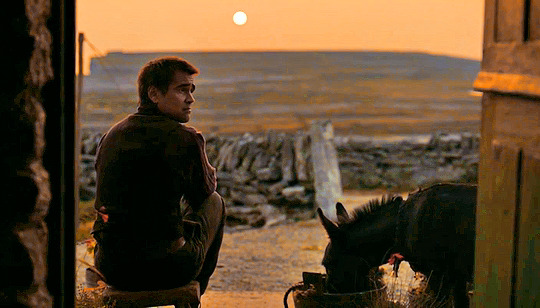 A deeply haunting and moving film, the 'Banshees of Inisherin' experienced one of the biggest Oscar snubs I've ever seen at the March 12, 95th Academy Awards. Set in 1923 on the fictional island of Inisherin off the coast of Ireland, a rustic, windswept land of cable knit sweaters and small-town gossip, we follow Padraic (Colin Farrell), a sociable cow herder, and his crumbling friendship with Colm (Brendan Gleeson), a melancholic fiddle player.
The two have been drinking together at the local pub for as long as anyone can remember until one day, seemingly inexplicably, Colm declares an end to their friendship. "I just don't like you no more," he tells Padraic, who responds with wounded bewilderment. Colm is serious, too, vowing that if Padraic continues to talk to him, he will cut off one of his fingers. This insane, irrational threat – a violinist severing himself from his art – gives the story a queasy momentum. It's hard for not only Padraic to understand, but the audience as well. What is Colm's deal?
Gleeson plays him as a storm cloud in a billowing overcoat, an artist that is far more worldly than the rest of his peers on the island, his temperament both too delicate and volatile for his surroundings. However, heartbreakingly, you can see where Colm is coming from. Despite Padraic's charm, his earnestness is always a little bit annoying– and Colm is desperate for a change in routine. Padraic's sister, Siobhan (Kerry Condon), empathizes with Colm silently; she's desperate to leave the island and start a life for herself on the mainland where the Irish civil war still rages.
One of the most impactful themes from the film, one that I've been turning over in my mind ever since it was uttered in an argument between Colm and Padraic, is that of legacy and humanity. After weeks of silence, Padraic, incredibly drunk, has had enough of Colm's hoity-toity act and tells him so, much to the dismay of the town's loveable idiot, Dominic (Barry Keoghan). 
"You, Colm Doherty, d'you know what you used to be?"
"No, Padraic, what did I used to be?"
"Nice! You used to be nice!"
The two bicker back and forth while Dominic runs to Padraic's house to get Siobhan. Colm holds that art lasts, that being remembered for your impact is far more important than simply being kind. Nobody from the 17th century is remembered for their niceness. Padraic is on the opposite side of this fight, delivering an absolutely devastating piece of dialogue:
"We're talkin' about niceness! My mammy, she was nice. I remember her. And my daddy, he was nice. I remember him. And my sister, she's nice. I'll remember her. Forever, I'll remember her. You used to be nice. Or did you never used to be. Oh God… maybe you never used to be."
'Banshees of Inisherin' is about being soft and the world eating you up if you don't harden. It's about the mind numbing monotony of everyday bitterness, of having no money, of petty violence. Who cares about being remembered if you aren't nice versus who cares about being nice if you aren't remembered. How terrible small-scale tragedies can be even going up against titanic horrors like a civil war and what do you do if you hate your home and everyone in it. It's about what happens if your one person decides they don't want to be your person anymore. When they use your love for them to keep you away. It's a poignant masterpiece that digs its cold fingers into your chest and burrows itself there.