Kicking cancer: Richwine raises money for kids
Hang on for a minute...we're trying to find some more stories you might like.
Football is not always just about wins and losses. For one team member, this season was all about making a difference in the lives of children.
Senior Caleb Richwine has been kicking for the varsity team ever since he was a freshman. Richwine was recruited to the team because he was a soccer player with a very good leg.  This season, he used that leg to raise money for children battling with pediatric cancer through Alex's Lemonade Stand. 
"I've been going to Kohl's kicking camps [the number one ranked exposure camp for kickers, punters, and long snappers in America] for a while and they teamed up with Alex's Lemonade Stand to promote Kick.it, [the specific branch of Alex's Lemonade Stand] for to all the kickers coming through their camps," Richwine said. "When I first saw this, I instantly knew I wanted to do this so I signed up right away and now I had the opportunity, along with hundreds of other kickers, to help raise money for kids with cancer!" 
Richwine has a page on Alex's Lemonade Stand in which anyone can make a donation to his cause.  This season he was able to raise $1,700 for kids battling childhood cancer. People who donated on his page had two options.  They could make a simple one-time donation or they could pledge an amount for each point he got: extra point (1 point), touchback (2 points), and field goal (3 points).
Kicking for a high school football team is a normal feat for a soccer player to approach.  However, to get to a higher level, one would have to make the decision to attack it.
"Having a soccer background is one of the biggest things that helped me become a good kicker," Richwine said. "Having the basic form comes into play and then kicking coaches will make little adjustments in your form to make you into a better kicker. In my sophomore year, I started going to coaches and learning more about kicking."
Richwine added, "I started to see big improvements so that's when I decided my junior year I was only going to play football and pursue a college scholarship for kicking."  
In addition to their camps, Kohl's also ranks the prospects and releases it to college coaches across the country to see.  According to Kohl's website, Richwine is the 20th-ranked kicker in the 2019 graduating class.  Richwine's ranking is the highest rank any football kicker CHS has had.  
Richwine uses his kicking abilities to do more and the community has realized that.  Just over 30 individuals or families donated to Richwine's cause this season.
One of the families that donated was the Purdy family.  
"Caleb Richwine shows what a unique and caring individual he is by supporting Alex's Lemonade Stand," Laurie Purdy said of her donation towards Richwine's cause.  "It only takes a moment before or after a game to witness how kind he is to the young kids. We are happy to support a young man who finds a way to use his talents for others.  Alex's Lemonade Stand is a great example of the power of young people to do well."
This year Richwine was able to bring his movement onto the field.  At the CHS Homecoming game on Oct 13, he was able to bring two young survivors to be honorary captains for the night.  
"Being able to share that moment with [the honorary captains] is easily one of my favorite moments from the season," Richwine said.
Not only did he affect the community, but he also affected the team.  Everyone on the team was aware of his objectives.
Senior starter running back and linebacker Ben Nix said, "Obviously the primary goal of the team was winning, but everybody wanted to get Caleb points for the cause."
The whole team knew what Richwine was trying to do for all children battling cancer.  They understand that this is incredible and want to support him in all things.
Richwine was able to set the school record in his last game in Ken Millen Stadium with a 47-yard field goal.  Richwine will leave a lasting impact on both the Carlisle football program and the Carlisle community.
You can still donate to Richwine's cause at his Alex's Lemonade Stand page.

About the Contributors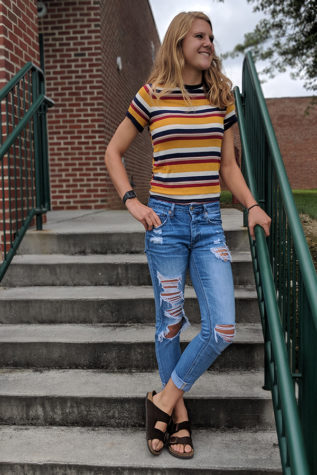 Meg Tate, Sports Editor
Meg Tate is currently a senior at Carlisle High School and this is her third year in Periscope and is the Sports Editor.  Meg is a member of the Senior...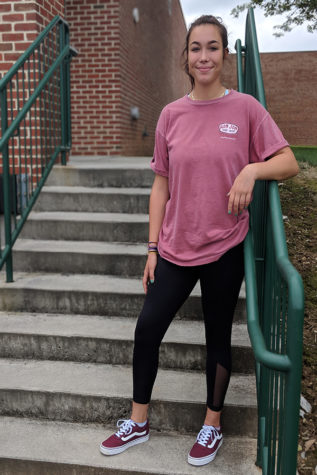 Karolena Santiago, Photographer
Karolena Santiago is currently a freshman at Carlisle Area High School.  Karolena is a sports manager for football. In her free time, she enjoys taking...