Beyond teaching: Roper leads anxiety support group
As stress and anxiety levels rise in teenagers, access for resources for teens should grow with this need. 
Stress is defined by Mental Health America (mhanational.org), as the reaction that the body feels in response to pressure in life.  High school students experience high levels of stress, with over 83% of stress being related to school.  
Delia Roper, a history teacher at CHS, hopes to offer students the tools needed to deal with that stress. Three years ago, she observed that there were many students who were also suffering. Deciding that there needed to be a resource at the school for students who struggle with anxiety and stress, and  Roper, who was in graduate school to study counseling at the time, created the group B3– which stands for Breathe, Balance, and Be You–to serve that purpose.
"Anxiety is something I have personally dealt with myself and I know how overwhelming it can be," said Roper. "I saw a lot of my students dealing with those same issues as well, and I thought it would be a good way for me to offer an environment we could kind of share but also support each other."
While many teachers at the school are always open for students to come and talk to them if they are struggling with anything in life, B3 is an official group dedicated to focus on students' mental health. The group meets during school, one time a week over an eight week period, but rotates what period it is each time in order to not have the students repetitively miss the same period. 
 Roper wants to make the group as accessible to students as possible by keeping it in school so that students won't have to potentially find a ride home after school.  
The process of entry by students either self-referring themselves or a teacher referring them.  The student will then go through a screening process, which consists of a one-on-one talk with Roper. The student will discuss what anxiety and stress is to them, as well as what type of activities and techniques they would go through during the actual sessions.
Senior Mikayla Ramos joined B3 last school year, after having a teacher reach out to Roper.
"I thought that if my teachers noticed something in me that could be helped, I might as well try," said Ramos.
After the screening, students can decide whether or not the support group is for them, and they can commit to the eight sessions.    
Even after students graduate from CHS, what they took away from B3 still can help then in their lives. 
For CHS Class of 2018 alumni Grace Lippert, she learned how to cope with her emotions in a positive and healthy way.
Lippert was encouraged to join B3 by Roper herself.   
"I had Mrs. Roper for class and I became very close with her and would talk to her frequently about my emotions," said Lippert.  "When the group was created she suggested that I join. Joining was one of the most positive experiences I had in my high school career."
From being apart of the support group Lippert learned that it is okay to feel the emotions that she does. 
"B3 taught me that it is okay to feel your feelings, but encouraged me to do so in a healthy and productive manner," said Lippert. " We learned and practiced healthy coping mechanisms which helped me a lot throughout high school and I still use them to this day in college." 
This is what Roper wants students to take away from being apart of the support group, knowing that the emotions you may go through are okay.   
"My hope is that we can get to the point where all of the people who participate are self-referred because I want students to see it as a positive thing, not something that they should be embarrassed about." said Roper, "I think a lot of people deal with [stress and anxiety] and the more we can become aware of that and help each other."  
About the Contributor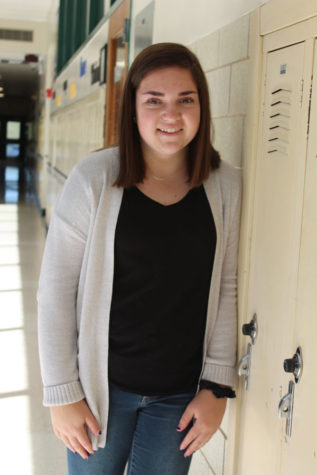 Abigail Lindsay, Editor in Chief
Abigail Lindsay is excited to share the role of editor in chief with Samantha Martin, for her third and final year on the Periscope staff.  At CHS, she...