Making students immune: Temple's mumps outbreak brings vaccines to minds of students
A recent mumps outbreak at Temple University has brought the vaccine debate to the young people of Pennsylvania.
On March 29, it was reported by the Philadelphia Inquirer that there were 108 reported cases of mumps at the university, with 18 confirmed to be mumps and 90 considered "probable." The outbreak prompted the school to update its immunization policy, and public health officials in Philadelphia are recommending that people in the area get vaccinated for the disease.
This event has brought vaccinations to the forefront of Pennsylvania news, despite the fact that minimal new information about vaccines has been uncovered. Recent years of scientific studies and research have brought forth no considerable changes in what is known about vaccines, so vaccine requirements for Pennsylvanian youth have remained pretty much the same. Unless a child is exempt for health or religious reasons, they are required to get the obligatory vaccines.
Certain vaccines are needed for certain grades for a student to even be able to attend; without every mandatory vaccination, a student could be prohibited to be present at school.
CASD does not make its own rules about what's necessary for a student on the bases of health. The entire state follows one set of specific vaccines that are needed.
"
In the U.S., only 70 percent of children ages 19 to 35 months receive all recommended immunizations."
— Science Daily news site
"The school vaccine policy is just the state's," said Diane Lello, the McGowan building's school nurse.
Past studies done on vaccines have caused concern in a group of individuals. 'Anti-vaxxers' believe that vaccines are more harmful than helpful for a number of reasons. Research has proved that the first believed extreme negative of vaccines, autism, is not connected to vaccines.
"Multiple studies have been completed which investigated the measles, mumps and rubella vaccination in relation to autism," according to the Autism Science Foundation.  "The results of studies are very clear; the data show no relationship between vaccines and autism"
Though no research has recently affected vaccine policies, diseases thought to be eliminated are beginning to come back again. This is a growing concern to the country as preventable diseases are resurfacing.
"In the U.S., only 70 percent of children ages 19 to 35 months receive all recommended immunizations," said Science Daily, a recent scientific research news site.
Institutions have taken action to keep disease away from young people, through vaccinating as many people as possible. Temple University recently held a free clinic where students and faculty could get vaccinated. According to the Philadelphia Inquirer, over 4,800  students, staff, and faculty at Temple were vaccinated last week. 
"Hopefully, the numbers go down as we vaccinate more and more people," Mark Denys, director of Temple's student and employee health services, said in the Inquirer's article.
The CASD school district has not seen any breakouts of disease on the vaccination list in past years. The required vaccine list remains the same this school year and medically no vaccines are being recommended to children outside of the school by doctor services.
"From a parents' standpoint and from someone who works in the medical field, my children have always received the required vaccinations in order to attend school," Jennifer Nelson, an employee of Claremont Nursing Home and current CNA course student, said. "They also have received optional vaccinations such as the chickenpox vaccination and the HPV vaccination."
Parents must vaccinate their child for them to be able to attend school. Many doctors' offices in Carlisle offer all the necessary vaccines that are mandated by the state for children's expected school attendance.
Leave a Comment
About the Writer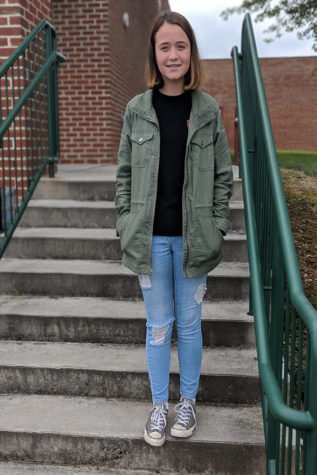 Carlin Diehl, Staff Writer
Carlin Diehl is currently a 9th-grade student at Carlisle High School. She is a first-year staff writer and Periscope student. She spends her free time...