Registration rights: CHS students participate in Inspire U.S.
Hang on for a minute...we're trying to find some more stories you might like.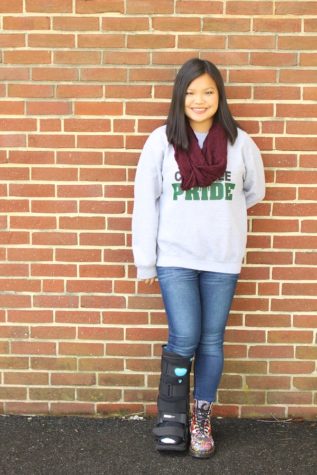 More stories from Claire Neiberg
Carlisle High School is determined to register 85 percent of seniors to vote before April 16, 2018.
In order to achieve this goal, CHS has partnered with the Inspire U.S. organization.  The program, which will be run by Social Studies program chair Kevin Wagner at CHS, is made up of a series of events that are hoping to inspire students and get as many possible registered to vote. 
"
The people that we vote for are the people we want to represent us and we can't influence politics on a local or national level without voting. It's important to support your values in any way you can and voting is the way to do that."
— Daniel Spivak, senior
According to their official website, "Inspire U.S. is a 501(c)3 nonprofit organization and is strictly nonpartisan. [They] currently have programs in multiple states; Arizona, Colorado, Kentucky, Nevada, Pennsylvania, Virginia, West Virginia and Wisconsin."
Inspire U.S.' goal is to encourage students to register to vote. According to The Center for Information and Research on Civic Learning and Engagement (Circle), "about 24 million youth, ages 18-29—voted in the 2016 general election," roughly 50 percent of all people in that age demographic.
Inspire U.S. would like to make that number higher.
"We support high schools in planning and conducting student peer-to-peer voter registration activities. We guide them to engage them with elected officials at the local, state and national level," according to their website.
Junior Brady Chilson is directly involved with CHS's Inspire U.S. events as a student helper. 
According to Chilson, the purpose of the program at CHS is "to inspire people to fulfill their basic civic duty to vote as an underrepresented demographic in elections."
CHS is over halfway to its goal of getting 85% of its seniors registered.
"We currently have 161 students out of the 287 eligible registered thanks to the assembly on January 29," said Kevin Wagner. "That means we have 56% registered.  We need to hit at least 65% to make the goal, but we want to hit 85% (244 students).  If we hit that 85% goal, then we receive a visit from Governor Wolf and receive the Governor's Civic Engagement Award."
CHS offered rewards for registering, including paid prom tickets, a senior trip, and Amazon gift cards won by students who registered within the last three weeks.
Chilson believes, however, that students should not need prizes for registering to vote.
"We shouldn't need incentives because getting your voice hear should really be an incentive enough," said Chilson. "Really, we are just trying to spread the message of voting helps make voices heard."
The program has already made registering to vote more accessible for students.  Senior Daniel Spivak "was already going to register to vote, but Inspire U.S. made it a lot easier."
By registering to vote through Inspire U.S. at CHS, students are making the process easier on themselves while at the same time getting the preparation to have their voices heard.
"If we don't vote, we don't get a voice in problems that directly affect us," said Chilson.
Spivak agrees with Chilson.
"The people that we vote for are the people we want to represent us and we can't influence politics on a local or national level without voting," said Spivak. "It's important to support your values in any way you can and voting is the way to do that."