Only one life: the advantages of leading a healthy lifestyle
Hang on for a minute...we're trying to find some more stories you might like.
Enduring a healthy lifestyle can be quite a struggle for high school students. Besides just eating vegetables and fruits, there are many other factors that can influence a healthy life.
Opening up to a new way of living could ultimately have a lasting effect on someone's life. Health affects lives in many ways because if health isn't a priority, an immune system may grow weak to diseases. Also, supplementing bodies with bad foods could affect their moods for the day. 
Junk food is easy for people to get their hands on and always in the forefront of people's minds; from advertising to stores stocking them on front shelves. Temptation is a key impact to someone's choice in buying the product. Fast food is another craving that people tend to resort to instead of home-cooked meals.
"Typical American diets exceed the recommended intake levels or limits in four categories: calories from solid fats and added sugars; refined grains; sodium; and saturated fat," according to the official United States Department of Health and Human Services' website. 
Purchasing big quantities of prepackaged foods may result in overeating because once one chip is eaten, temptation makes you want to eat another. To avoid these mishaps, just grabbing a small plate or small bowl and using the serving size that is suggested on the packaging can go a long way in stopping overeating occurrences.
"I know when I grab a bag of chips or pretzels and I sit down to watch tv, I don't realize that I am still eating after a tv show had finished," said Jesse Beck, a current sophomore at CHS.
While overeating junk foods can seem ideal at the time, it isn't over a period of years. The immune system can be directly affected if you do not sustain a nutritious diet that doesn't only contain snack foods.
"Eating or drinking too much sugar curbs immune system cells that attack bacteria," said an article from WebMD written by Carol DerSarkissian.  "This effect lasts for at least a few hours after downing a couple of sugary drinks."
Unhealthy foods can not only affect someone's, but their mental health. Sugar rushes may occur when filling your body with sugary snack foods, but once that sugar rush ends it results in a drastic mood change. Not providing your body with foods that have nutritional value could cause depression moods, since your body is deficient in what it needs.
"Recent studies have shown 'the risk of depression increases about 80% when you compare teens with the lowest-quality diet, or what we call the Western diet, to those who eat a higher-quality, whole-foods diet. The risk of attention-deficit disorder (ADD) doubles," said an article from WebMD written by Kelli Miller. 
"I always drink water, try to eat healthier and I also workout," said Mikayla Cable, a sophomore at CHS. "Overall, I physically and mentally feel good about myself, which makes me more confident in my everyday life."
Whole foods allow your body to thrive since it is being given its needed nutrition to work steadily throughout the day.
Yet food is not the only factor that can help improve mental and physical help. Obtaining an efficient amount of sleep is also a part of sustaining a healthy lifestyle.
"Sleep plays an important role in your physical health," said the official website of the National Heart, Lung, and Blood Institute. "For example, sleep is involved in healing and repair of your heart and blood vessels. Ongoing sleep deficiency is linked to an increased risk of heart disease, kidney disease, high blood pressure, diabetes, and stroke." 
Being lazy versus being healthy has an ongoing and long-lasting impact on overall health. Taking the initiative to take care of yourself will help avoid mental and physical illnesses. Getting enough sleep, eating nutritional foods, and doing a little bit of exercise each day can have a positive effect that will provide a sufficient life.
About the Contributor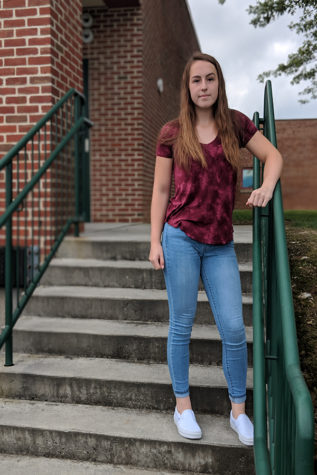 Kaitlyn Peck, Staff Writer
Kaitlyn Peck is enrolled in Carlisle High School as a sophomore. This is the start of her journey through periscope with it being her first year. Kaitlyn...