Surface tension: District approves plan to build synthetic turf field
On Thursday, December 9, the Carlisle Area School District held a board meeting in which they voted and approved the first phase of a three-phase athletic field project. This project includes putting in a synthetic turf field that would be placed across from the Ken Millen Stadium at the football practice field. 
The introduction of a turf field to our campus would impact our school's athletes and coaches the most. The field would be considered multi-purpose, allowing any of the school's sports and programs to use, but would likely be used the most by the field hockey, soccer, and lacrosse teams as well as the band and certain PE classes. 
Some teams are very excited and have been eager to ditch the grass for a long time.
Head Field Hockey Coach Lindsay Sensenig said, "When teams play on different surfaces, it affects how the game is played and I believe that it greatly affects basic skill development. When training on grass compared to turf, as far as field hockey is concerned, it is not even the same game."
The new field would allow the sports teams to no longer be at a disadvantage when playing away games. Currently, CHS is slightly behind a majority of other PIAA schools because they already play and practice on turf fields. 
"I [have] witnessed the frustration our coaches and athletes experienced in being at a disadvantage because they lacked the opportunity to practice and host on the same surface as almost everyone else," said Anne Lauritzen, School Board Vice President and member of the Athletic Field Project task force. 
Having a synthetic turf field would provide other opportunities for CHS's student-athletes, like the ability to hold tournaments and playoff games. Nowadays, student-athletes who play on grass are overlooked by colleges, so having a synthetic turf field would allow Carlisle's athletes to be considered by colleges and advance their athletic careers. 
Sophomore soccer player Olivia Baldwin said, "[Turf] will probably be beneficial since it's harder sometimes to transition and play on turf at any other school. The turf will allow for smoother transitions, especially if we make it to districts and playoffs."
The idea of putting in a synthetic turf field has been long debated at CHS. Many are for the idea as it will advance our athletic department into the future of the sporting industry, while some are against it for financial and environmental concerns.
"
These fields will provide opportunities for all of our teams to play and practice. Physical education classes will have far greater opportunities."
— Anne Lauritzen, CASD school board vice president
From a financial perspective, the school has worked with ELA Sport Group in structuring and assessing the current fields and developed a $3.19 million plan that works best for the school grounds, including $1.4 million towards the turf field.  This plan is part of a larger, multi-year project intended to improve athletic fields and facilities, at a price tag of $9.1 million. 
Two district parents questioned the rationale of spending this money on non-academic expenditures, especially in light of the current economy and budget limitations in the district, but the board responded with reasons that this venture would be beneficial to a large population of students.
"We have about 400 to 500 students participating in some form of athletics or band," Lauritzen said (as recorded by the Carlisle Sentinel). "That's a huge percentage of our student population at the high school. These fields will provide opportunities for all of our teams to play and practice. Physical education classes will have far greater opportunities."
CASD Social Studies Program Chair, Kevin Wagner, also spoke up at the board meeting, with his concerns about the project's environmental impact.
"Artificial turf uses huge volumes of plastic," Wagner said. "If you were to cover an average home garden in artificial turf, it would require 54 pounds of shredded plastic."
Wagner also expressed concerns for the amount of pollution caused by the "plastic grass" in the soil, the project's carbon footprint, how the turf kills organisms that live in the soil, and potential build-up of surface runoff. 
The school board acknowledged Wagner's comments later on by mentioning solutions to environmental issues including recycling of the artificial turf, management of water, continuing to plant and the encouragement to plant more trees. 
Other aspects of the athletic field project include an upgrade to the old tennis courts near Wilson Middle School, the continued maintenance of select grass fields, Bellaire Drive's closure to through traffic, and the relocation of some utilities like water and power. 
Do you think CASD should build a turf field (in addition to other athletic improvements)?
Sorry, there was an error loading this poll.
View Comments (7)
Want to help the Herd? Please consider supporting the Periscope program. Your donation will support the student journalists of CHS and allow us to purchase equipment, send students to workshops/camps, and cover our annual website hosting costs.
About the Contributor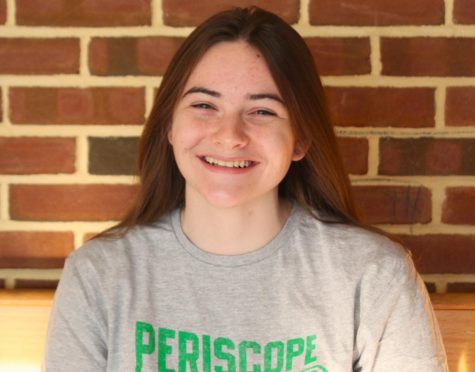 Hannah Stoner, Sports Editor
Hannah Stoner is a junior at Carlisle High School. She is excited and proud to be returning to the Periscope staff for her third year as journalism has...