Among the Hidden: Carlisle community's history with racism comes to light in new CALC art gallery (Photos)
The Carlisle Arts Learning Center (CALC) kicked off the new year with the opening of a collaborative exhibition that was created with the help of the Carlisle community. As a whole, (RE)Presenting Racism: The Stories of Our Town is an installation that shines a light on historical moments of racism that are generally unknown to the town's population and in turn, presents contemporary visions of equity and inclusion.
The seeds of this exhibition were planted in the fall of 2021 when two current exhibits opened at The Dickinson Trout Gallery, Horace Pippin: Racism and War and Tracing Slavery: Moses Williams and Kara Walker.
Related: Better in color: Community art projects brighten up Carlisle (Editorial)
Working with groups ranging from children at the YWCA, teens within the Carlisle Area School District's art programs, and adults in the community, outreach programs illuminate Carlisle's hidden histories of racial discrimination and provided participants with the opportunity to both respond to these histories and imagine a more just and equitable future for the community.
Freshman Elisabeth Forrester was one of those teens.
"This was a great opportunity as it was one of the first times I got to be a real part of my community while also being in an artistic and open space," Forrester said.
CHS art teacher Courtney Lindgren-Kendle encourages her students to get involved in community art experiences like this one.
"Creating art is not just a process individuals do to express their personal ideas and feelings, but it is also a way for artists to explore and express their interactions and views of the world around them," Lindgren-Kendle said. "Being able to engage with the community about any topic through art provides another outlet to open up conversations and share ideas." 
Carrie Breschi, a pillar in the local art community and one of the main organizers of this event, entered art classrooms at Carlisle High School and Wilson Middle School to teach students these historical stories of racism. 
"I had a lot to learn from the participants of all of my classes," Breschi said. "The diverse perspectives and reactions to the stories and the varying techniques utilized to articulate the events were meaningful in so many ways."  
Bresch added, "Unfortunately, it was not surprising that the majority of the local historical stories of racism presented were unknown to the students."
This installation sparked positive reactions from Carlisle's population, with multiple comments praising the work of these community-based artists in the guestbook. 
"Such an effective display, it's very difficult and sad to read about the way people were treated," one said.
"I never knew half of these stories and I grew up in Carlisle! Thanks for bringing this to our attention," another added.
CALC hopes to use (Re)Presenting Racism to tackle uncomfortable, yet necessary conversations about the community's past as well as look forward into the future by bringing forward a dark past, looking beyond limited worldviews, and highlighting the hard work that needs to be done for a better future for all members of the community.
View Comments(1)
Want to help the Herd? Please consider supporting the Periscope program. Your donation will support the student journalists of CHS and allow us to purchase equipment, send students to workshops/camps, and cover our annual website hosting costs.
About the Contributor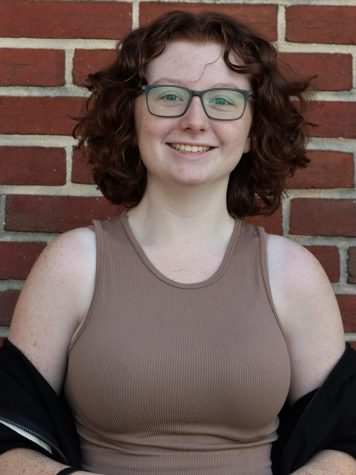 Ryleigh Underwood, Editor-in-Chief
Ryleigh Underwood is a senior at CHS and this is their fourth year on the Periscope staff. They are the manager of CHS's improv troupe, Wingin' It, the...