Better 'latte' than never: Coffeehouse turns to virtual platform for First Cup
As Rihanna has said, "Please don't stop the music!" CHS Coffeehouse is making sure the song goes on.
Coffeehouse is an artist outlet for the musicians and poets of Carlisle High School. Anyone who has a love for music is invited to join the Coffeehouse team to share their voices with the community. 
In a normal school year, students performing in Coffeehouse would practice in person and the Coffeehouse event would be held at school live three times a year. However, due to the pandemic, members of the Coffeehouse won't be able to practice or perform as they normally would. 
The Coffeehouse staff has found a way for the event to take place virtually using Zoom. Students who are participating must submit a video of their performance to the Coffeehouse advisors, James Wilkinson, Grayson Rech, and Sue Hench. The final videos of each group will be available for viewing via Zoom on Tuesday, November 10 at 7:00pm.
Due to "The First Cup" Coffeehouse performance being held online, there have been a couple of challenges faced. 
"It's been a challenge getting the word out about the show," said Lola Gehman, junior and member of the Coffeehouse PR team. 
Not everyone will be able to attend the Coffeehouse concert. Students participating will be sent a link for the ZOOM and at the moment, the link can only be shared with family and friends a certain amount of times.
Although it isn't ideal, having a virtual Coffeehouse concert does bring some new opportunities to the table. 
"It has given me the opportunity to play a slot with some of my friends from freshman year who are military and moved away," Gehman said. 
Other performers are also finding the silver linings in this new venue.
"I personally enjoy it," senior Loryn Whistler said, "but it is certainly different than our normal set up. With bigger bands, it's sometimes harder to have a perfect performance. Performing live is bound to have slip-ups, which is something we've learned to embrace. But this new format allows for lots of retakes, and a more polished product."
Whistler is a member of Under the Floorboards, where she plays guitar, sings, and writes music, alongside fellow CHS members Anna Crawford (senior, singer), Danielle Fevola (senior, upright bass), Renee Blacksmith (junior, singer), and James Crawford (sophomore, singer).
What do you think of the new format for Coffeehouse?
Sorry, there was an error loading this poll.
However, this current line-up is not the original one.
"Under The Floorboards is the longest-running band in Coffeehouse, starting around 8 years ago," said Whistler.  "The title is passed down every year/few years as upperclassmen graduate and new students take their places."
Other returning Coffeehouse regulars are happy with the opportunity to perform, especially with the advantages of this format.
"I was thankful enough to borrow some audio equipment and I have been experimenting with mixing and video editing to make a sort of music video for the digital performance," said senior Reese Daugherty, who is performing solo this year. "I've been able to layer tracks and make a more 'complete' song rather than what I would do for a live performance."
The performers are making the most of this opportunity to do what they love: make music.
"It's unfortunate that we can't bask in the atmosphere of Coffeehouse," said Whistler, "but we're trying to make it just as unique."
Leave a Comment
Want to help the Herd? Please consider supporting the Periscope program. Your donation will support the student journalists of CHS and allow us to purchase equipment, send students to workshops/camps, and cover our annual website hosting costs.
About the Writer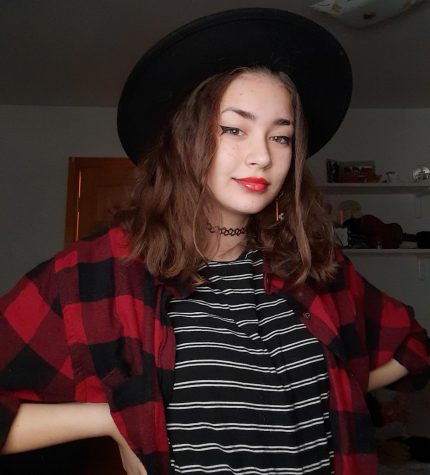 Renae Greak
Renae Greak is a freshman at Carlisle High School. This will be her first year on the Periscope staff. Renae loves photography and writing fiction. Outside...