"Sweet" arrival: New bakery comes to Carlisle
What could be sweeter than a brand new bakery in downtown Carlisle?
While there are already several bakeries in Carlisle, Nothing Sweeter brings great variety as it has sticky buns, eclairs, danishes, gourmet cupcakes, and more. 
Additionally, it came at the perfect time, as something new coming should help everyone that's feeling bad about the loss of Pie Haus. 
Nothing Sweeter, owned by Annette Lane, opened at 10 W. Pomfret Street on Jan 25. A small bakery located in a storefront in downtown Carlisle, it has only enough room to accommodate a few groups of people at a time. Lane describes it as pleasantly "small and quaint," and intends to keep her business that way, even if it becomes more known throughout Carlisle.
Despite the bakery's small size, there are still plenty of options available to hungry customers  Nothing Sweeter's menu includes cookies, scones, cupcakes, brownies, and more, but their main appeal seems to be their custom cakes, examples of which can be found on their website. They make cakes and cupcakes for weddings, kids parties, baby showers, birthdays, and more. 
Although custom cakes are a very large part of what they do, Lane said her favorite things she makes are "the sticky buns, the cinnamon rolls, and the eclairs." She also said that the sticky buns are her most popular item.
"
I had a certified home kitchen, and we had a mini-bakery in the basement, and I just wanted to do more, so we decided to move out here."
— Annette Lane
Carlisle customers are already fans of Nothing Sweeter's offerings.  Sam Salomone, a freshman student at Carlisle and staff writer for Periscope, said, "It's good, especially since Pie Haus just closed; it's nice to have a new bakery."
"My favorite thing was the blueberry lemon cupcake," Salomone added. "I had never tried that flavor before and I was really surprised by it."
Lane has a lot of experience baking. She said she has been baking "since [she] was a kid, [she] grew up baking with [her] grandmother" but this is her first time running a business 
"It started as a hobby, then I decided to get certified," said Lane. "I had a certified home kitchen, and we had a mini-bakery in the basement, and I just wanted to do more, so we decided to move out here." 
The process of getting certifications and funds to move into a real business place can be a large drawback for many small business owners, but Lane made her way from running a tiny bakery in her basement to a lovely place on Pomfret Street.
Nothing Sweeter is located at 10 W Pomfret St. where it is open Tues.- Thurs. from 7 a.m.-5 p.m., Fri. and Sat. 7 a.m.-6 p.m., and closed on Sun. and Mon.  
About the Writer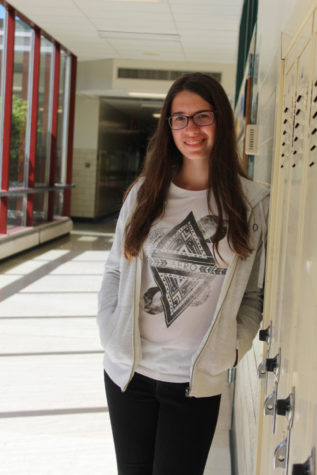 Emma Santillo, Staff writer
Emma Santillo is a sophomore and is in her first year on Periscope staff. It's also her first year on the Carlisle field hockey team. Outside of school,...