Shakespeare characters come alive: students to perform in the Sonnet-Monologue competition
Hang on for a minute...we're trying to find some more stories you might like.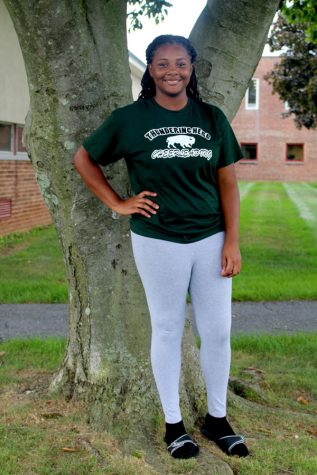 More stories from Daija Berry
Even after 400 years, the characters of William Shakespeare are still relatable.
"The characters are still relevant to us today, for no matter what qualities they have, there is always something about them that reminds us of ourselves," said Shakespeare Troupe adviser Sue Biondo-Hench.  "There is always something about them that makes them human."
These human qualities will come alive during the performances of this year's Sonnet-Monologue competition, to be held Tuesday January 24, 2017 at 6:00pm in the Swartz Auditorium.
The Sonnet-Monologue Competition is an event that focuses on students memorizing and then reciting both a sonnet and monologue from one of Shakespeare's many plays. Depending on how well each person does, they can proceed to the National Shakespeare Competition.
"We've each got to prepare a sonnet and a monologue to perform for the judges," said Sam Parrish, a senior that is part of the event. "We pick sonnets first and work on them for about a month or two."
"Sonnets are usually personal," added Parrish. "They're poems that tend to be easy to connect with, and an audience can really feel what the speaker is feeling when recited correctly."
After the sonnets comes the monologues, a long speech given by one character during a Shakespearean play.
The preparation process does include help from others.
Fran Bixby, a junior that participates in the event, said, "We do a lot of workshops with the amazing Mrs. Hench. Sometimes the students get together and help each other so that we can really understand what we're saying. It's a lot of work but it's definitely worth it!"
These workshops allow students to strengthen their skills, in order to prepare for the first level of the entire contest, which is the Sonnet-Monologue Competition.
"It can be pretty stressful but it is unbelievably rewarding," said Bixby. "This is my second time participating and both years have helped me become more and more connected to all of Shakespeare's texts. More people should try it because everyone is so supportive and the growth as an actor and a person is extraordinary."
Even though frustration might occur during this event, success can be the outcome.
"The experience is pretty cool," said Parrish. "We come back to school around 6pm the day of the competition and we draw sticks randomly to see who goes first. Monologues are performed first, then sonnets. It's really great seeing how far people have come with their sonnets and monologues, and the air is charged with this electric tension that brings everyone close together, even though we're all competing against each other."
Seeing improvement in these students not only puts a smile on their faces, but it also puts one on the judges' as well.
"The judges that are at the competition are the same judges in charge of casting the spring show, so they see more of your strengths and can cast you better," said Parrish.
If the judges think that the students performances are well put together, then the students will advance onto the next level.  Though, to the judges, much can be gained simply by learning the speeches.
"It is so easy to find ourselves and the people we know in Shakespeare's characters," said Hench. "They are honest and dishonest, kind and cruel, generous and stingy, loving and hateful, confident and fearful, good and evil, joyful and melancholy, inspiring and disheartening, wise and foolish, serious and funny."
"And they combine any and all of those traits in infinite ways," added Hench.
While moving on to the next level is the goal, the students feel like there is a lot to be gained from just competing.
"I think that people should participate in the Sonnet/Monologue Competition because it helps you get to know yourself better," said Parrish. "High school is a time of confusion and trying to find your 'true self,' whatever that is. And Sonnet/Monologue can help you find that. Monologues help you get better at acting, but sonnets can help you get better at being yourself, and being truly comfortable with being yourself."