Moving with the military: A glimpse into the life of an Army brat (Editorial)
I don't have what most people would consider a "hometown." Since my dad is in the Army, I've moved six times in my 14 years of living. I know what it's like to say goodbye to people and places that I really loved, and it never gets any easier. Since I move about every two years, my upbringing differs greatly from the standard "American Dream" that inspires so many people. 
I'm constantly starting over. New people. New neighborhood. New school. New house. New life. I get comfortable. Then it all gets ripped away from me, as quick as that. I've gotten used to this routine but it gets hard. Sometimes I feel like I'm falling and grasping for any sense of familiarity as I'm forced to move across unfamiliar miles to an unfamiliar place with unfamiliar people.
Feeling alone has become a common occurrence. Moving can be extremely stressful and many thoughts run through my head. Will I meet people? Will I like where I'm going? What if something goes wrong? Most of the time I'm worried for nothing but it doesn't take away from the fear and anxiety of leaving my life behind. I'm overwhelmed by the combating feelings of wanting to make friends but not wanting to because of the burden of having to leave them as well. 
Leaving places and people that I don't want to leave is extremely difficult. 'Goodbye' has become a frequent and overused word in my vocabulary. Hugs, tears, and gifts are shared as my friends and I say goodbye for the last time. Notes and pictures of memories can be found all over my house. Little snippets of a past life I can never get back. However, time marches on and eventually, it's time to repeat the continuous cycle. 
There's also the added fear and uncertainty of deployment. Deployment is when troops move to a certain place for military action. When your guardian gets deployed, you truly don't know if they're returning. Deployments can last anywhere from a few months to a few years. Their absence can cause them to miss important milestones like birthdays, anniversaries, graduations, and more. My dad has been deployed a few times, and it's really difficult. I could only rely on the phone calls we shared and trust that he was going to stay safe. My family and I never know if he's coming back. We were in the dark about what was happening where he was. We couldn't know if he was safe. It gets stressful and you feel helpless. There's nothing you can do to help. His homecoming is a relief but it's terrifying. When they do come home you don't know what they've seen or what they've been through. Even then, some soldiers don't come back. 
This routine of coming and going and my dad being gone makes my life tiring but I wouldn't change it even if I could. Even though the military has taken a lot from me, it has given me memories and experiences that I will never forget. I've had the pleasure of meeting some absolutely phenomenal people. I've been able to see things that the average teenager doesn't. Having my dad stationed in Germany had its perks. I was able to travel all over Europe and see things like the Eiffel Tower and Neuschwanstein Castle. I am forever grateful for the experiences that have been granted to me. The military has let me see the world.
"
This routine of coming and going and my dad being gone makes my life tiring but I wouldn't change it even if I could."
The military lifestyle has also gifted me many life skills. I've gained a lot of resilience and emotional strength experiences because of the constant turmoil my childhood has had. The ability to adapt to change has come a lot quicker for me than it would've for people who aren't a part of a military family. I genuinely believe that I've become a stronger person because of the military. 
According to Military One Source, over 400,000 service members move annually so I'm not the only person who goes through these things. There are thousands of kids who have had similar upbringings, many of them who attend this school due to the fact that their guardian goes to the Army War College. Meeting fellow military kids makes life ten times easier. Even though it gets rough, it's nice to know that I'm not alone. I tend to gravitate towards fellow military kids because they understand what I go through. We're all in the same rickety boat.
All in all, being part of a military family can be really difficult at times but I wouldn't change it. It has shaped who I am and it's given me relationships that have made me a better person and I think that that's pretty amazing.
Disclaimer: Articles designated as "Editorial" represent the views and opinions of the author, not the 2021-2022 Periscope staff, CHS/CASD administration, or the CHS student body.
View Comments (5)
Want to help the Herd? Please consider supporting the Periscope program. Your donation will support the student journalists of CHS and allow us to purchase equipment, send students to workshops/camps, and cover our annual website hosting costs.
About the Writer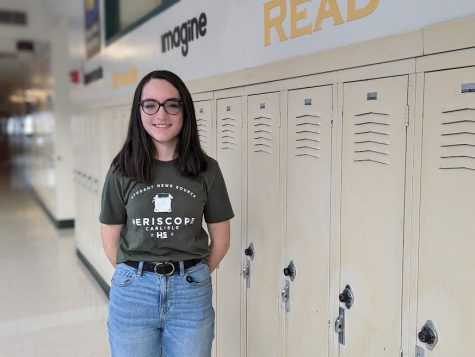 Emma McShea, Staff Writer
Emma is a freshman at Carlisle High School and this is her first year being a member of the Periscope staff. She enjoys musical theatre, watching tv, baseball,...