Planning for predicaments: Why we need a standard late policy (Editorial)
Picture this: It's Monday. Your favorite English teacher assigns the class an essay with a set due date of Thursday at 11:59. The assignment is to be submitted to Schoology no later than the initial due date.
On Wednesday, an invitation to hang out with your friends opens up to you. During your enjoyable time any recollection of  the assignment is depleted.
It is now Friday morning, and you receive a notification from Powerschool informing you that you have earned a 0/100 for an assignment. Of course, like most students you immediately enter a frenzy. Then realizing a symbol representing incomplete gracing the computer screen, you quickly draw something up to turn in late on Friday night.
Saturday morning arrives and you wake up to another Powerschool notification, this time hoping for a more relieving one. Instead, your essay grade is up to a D-, accompanied by a comment consisting of "Wonderful work, but LATE!!!"
The students of CHS are inquiring about the official late policy that the Carlisle Area School District enforces concerning late submissions. In situations like this, how can students anticipate and prioritize things accordingly?
Late policies are allow instructors to set up rules for late and missing submissions. These policies allow instructors to be more efficient and consistent in their grading of late and missing submissions. 
Every year students receive a syllabus that entails the rules and regulations concerning the classroom and topics that surround that subject. Usually, syllabi come with a late policy. The policy can come directly from the school district or from the teacher personally. Some late policies include 50% off 1 day late, 1 letter grade decrease with each passing day, the inability to accept late work, and or 1 or 2 points off if a few days late. This is solely based on the teacher's preference.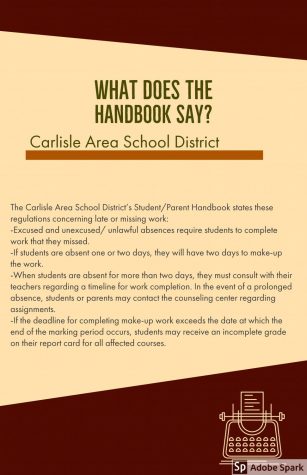 The Carlisle High School 2019-2020 Student/ Parent Handbook does not display a late policy of any kind, although it does disclose a policy regarding make up work due to an "excused, unexcused, and or unlawful absence."
Should there be a set school district-wide late policy that is used in order to benefit students' education while preparing them for the high expectation of college? What should it be? These are questions the students of Carlisle High School are asking.  
It would be a very advantageous idea for the school board to orchestrate a district-wide policy that would be applicable for the students and staff concerning late work. Even if the rules were organized by level of education such as elementary, junior high, and middle school individual policies.
Disclaimer: Articles designated as "Editorial" represent the views and opinions of the author, not the 2019-2020 Periscope staff, CHS/CASD administration, or the CHS student body.
About the Contributor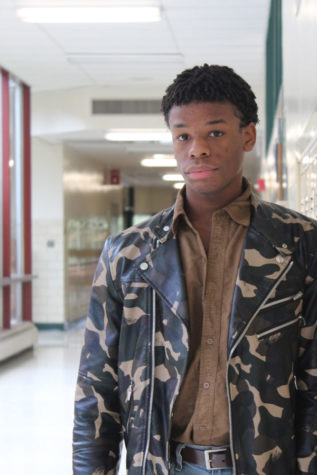 Zsilas Michael Hughes, Staff writer
Zsilas Michael Hughes is a senior at Carlisle High School. Hughes is almost 18 years old. He is entering his first and last year as a Periscope News staffer....