Green Team: Building a structure for sustainability
The Green Team is a club that hopes to help CHS become more environmentally friendly. They work hard to put helpful items into play, like the composting bins in the cafeteria. The team's goal is to help the environment along with the Carlisle community in the process.
Recently, the Green Team started a flag program. There are four flags, and each one represents a different air quality in the Carlisle area. There's a red one, which represents terrible air quality.  The orange and yellow represent air quality that isn't great and could be better. Green represents great air quality.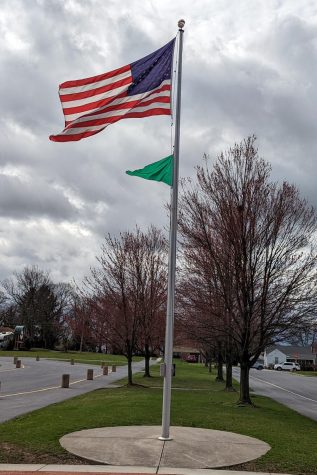 "We've been really lucky in the last few weeks that since rolling out this program and have had all great or good air quality days," faculty adviser Audrey Wronski said. "I think we will start to see more attention paid to air quality when we start having more frequent yellow days, or the occasional orange and red days."
Due to the massive amounts of trucking through PA, the air quality isn't great. Bad air quality can have serious effects on health and can be dangerous for people with pre-existing breathing issues, like asthma and more. To help people be more aware and cautious about the quality of the air, flags are hung on the flag pole outside the school for all to see.
"I also hope it makes us all realize that air quality is not always good if it looks good," Wronski said.  "Sometimes poor air quality days look just as clear as the green days."
Another one of the Green Team's projects has been the Eco-Challenge.
The Eco-Challenge is a program to give motivation to help others live more sustainable lives. The challenges are focused on helping Carlisle and surrounding areas with simple and more, on a small scale, fixable problems, such as water usage and gas emissions.  
"We're hoping the Eco-Challenge will allow students and teachers to evaluate their choices with food waste, recycling, or anything else that is sustainable," Elizabeth Blymire, president of the Green Team, said. "Hopefully doing this challenge will allow them to change how they think about sustainability and begin healthier habits for the environment moving forward." 
There are a lot of simple things people can do to make a difference; like being more aware of turning lights on and off when you leave a room or riding a bike or using public transportation. 
"We would love to see the student body actively thinking about their environmental impact and making conscious choices to do better," Green Team vice-president Grace Pak said. "This can be a daunting task, but starting by using the EcoChallenge's 'daily actions' is a simple way to incorporate greener actions into daily life.  Starting by not using a plastic water bottle or shutting down your computer each night for just the month of April makes it easier for it to become a life-long habit."
Those habits can really start to add up.
"My family and I started composting, as well as recycling any reusable items, a few years ago, and it's been going great ever since," Blymire said.
You can visit the team's website at https://campus2022.ecochallenge.org/ and view all the different challenges for the month of April. 
If you want to join the challenge, be sure to add yourself to CHS's group. As you do the challenges you'll get points for your team and earn prizes. The Eco-Challenge will be taking place from April 1-22.
"
We're hoping the Eco-Challenge will allow students and teachers to evaluate their choices with food waste, recycling, or anything else that is sustainable
— Elizabeth Blymire, Green Team president
"There are very few expectations for individuals that participate in the Eco-Challenge," Wronski said. "The Eco-Challenge is as rigorous or relaxed as you make it. People set their own goals to try and form more sustainable habits. Ideally, people will choose actions that they would like to incorporate into their life. It's not about picking goals to deprive yourself for three weeks, it's about picking goals you want to have in your life, and hopefully, after three weeks, these habits may stick!"
The Green Team continues to work on other projects, including an upcoming "Green Week" which will include theme days that go along with the idea of sustainability.   
View Comments(1)
Want to help the Herd? Please consider supporting the Periscope program. Your donation will support the student journalists of CHS and allow us to purchase equipment, send students to workshops/camps, and cover our annual website hosting costs.
About the Contributors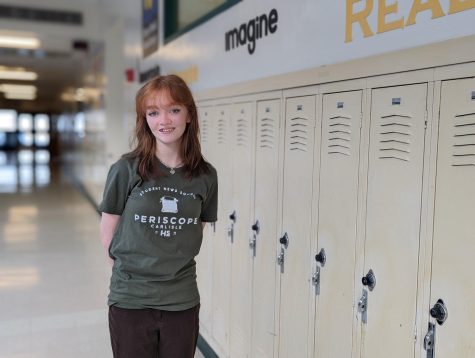 Rylie Workman, Staff Writer
Rylie is a freshman at Carlisle and this is their first year in the Periscope staff.  They finds joy in being around friends, writing, and staring at...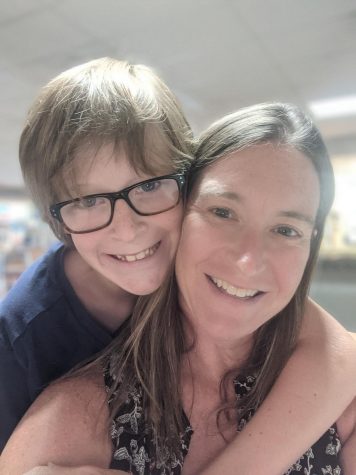 Kate Muir, Adviser
This is Mrs. Muir's 13th year advising Periscope and she loves it more every year! She's an avid reader, loves dogs and being outside, and enjoys baking...