'Heartstopper': Colorfully authentic (Review)
Even before its debut on April 22, Netflix's Heartstopper dominated Twitter's trending tab and skyrocketed to the top once released. Pulling over 929,000 engagements with only eight episodes, audiences zipped through the 30-minute installments to be left craving for more.

The British coming-of-age romance adapted from its webtoon counterpart by Alice Oseman follows Charlie Spring (Joe Locke) as he falls in love with his classmate Nick Nelson (Kit Connor). Joined by their eccentric friend group, Tao Xu (William Gao), Elle Argent (Yasmin Finney), and Isaac Henderson (Tobie Donovan), Charlie and Nick go through the motions of young love and discovering sexuality.

The show has taken the world by storm, and for good reason. Viewers watch as Charlie, the only openly-gay boy at an all-boys school, attempts to let go of a toxic relationship with Ben Hope (Sebastian Croft), and does so through his friendship with Nick, who makes him grow in confidence and feel respect for who he is. Nick, on the other hand, embarks on a journey of self-exploration that queer people of all ages alike know so well, learning things about himself that he didn't know was possible until he met Charlie.

The webcomic itself delves further into Nick and Charlie's relationship, Charlie's struggles with mental health, and Nick's struggles with coming out to his supportive mother (Olivia Colman) and the otherwise ignorant environment of his school. The show and web-comic also follow the stories of Tao and Elle and Tara Jones (Corinna Brown) and Darcy Olsson (Kizzy Edgell).

The show centers around change and how terrifying yet exciting it can be for teenagers, making it incredibly authentic. It feels like you're watching a snapshot of the modern-day teenager experience and to see that authenticity in a series that centers on LGBTQ+ romance and characters are truly refreshing. 

However, the show's greatest strengths have to be its incredible cast and soundtrack. Equipped with songs by Dayglow, Frankie Cosmos, girl in red, Orla Gartland, chloe moriondo, beabadoobee, and more, the soundtrack is perfectly curated with music that all the teens listen to today. Kit Connor and Joe Locke are perfect for their roles, with Locke approaching Charlie Spring with such a gentleness that it's mind-boggling that this is his first professional acting role.

Connor gives Nick Nelson such a warm, charming personality, it's easy to see why Charlie fell for him, and his nuanced performance as Nick discovers himself is nothing short of amazing. Together their chemistry is magical and with the confirmation of season two, audiences are looking forward to seeing the two again.

Official Netflix trailer

Heartstopper is a wonderfully gentle show that will bring a smile to your face and tears to your eyes as every character is extremely relatable, no matter their sexuality or gender identity. It's a quietly powerful film that celebrates young queer love with a kind of softness that is long overdue.
View Comments (2)
Want to help the Herd? Please consider supporting the Periscope program. Your donation will support the student journalists of CHS and allow us to purchase equipment, send students to workshops/camps, and cover our annual website hosting costs.
About the Contributor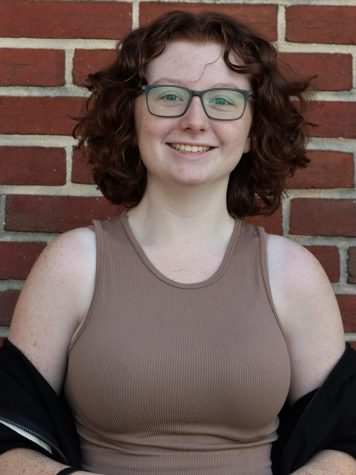 Ryleigh Underwood, Editor-in-Chief
Ryleigh Underwood is a senior at CHS and this is their fourth year on the Periscope staff. They are the manager of CHS's improv troupe, Wingin' It, the...