'Tick, Tick'……tick, tick……boom? (Review)
Netflix autobiographical musical about writer Jonathan Larson offers much, but lacks in pacing and closure
It's 1990's New York, a composer is trying his hardest to write songs for a musical. He's hit a block and can't think of any ideas, the pressure is on. 
Recently, Netflix released a musical based on the Rent playwright, Jonathan Larson, called Tick, Tick, BOOM starring Andrew Garfield. While the movie was wonderful in many ways, the pacing did drag in places and the ending will probably leave fans of Larson wanting more closure.
Directed by Lin-Manuel Miranda, and featuring small cameos from other Broadway stars, such as Alex Lacamorie, Jason Robert Brown and Stephen Schwartz, who all composed Broadway musicals of their own, the film included appearances from original Rent actors as well; Adam Pascal, Daphne Rubin-Vega, and Wilson Jermaine Heredia all worked with Larson before he passed. 
Garfield's performance was nothing short of incredible and impressive. He played his role very well, making the audience feel his emotions and understanding the heavy pressure of Larson's life and career. He embodied his character phenomenally, doing his job very well. 
When the conversation of accuracy is brought up for the film, this is where I'm divided. While some aspects are spot on, like his job at a diner and incredible stage fright, others weren't even included. A huge chunk of Larson's career was the fact that he never got to watch his work on stage. He died of an aortic aneurysm (a tear in your artery) just a day before the debut of Rent on Broadway.  It's not normally deadly, but Larson, unfortunately, didn't survive. While briefly mentioned, this felt glossed over in the conclusion. 
The pacing of the film was slow, and it took me a while to get interested. It wasn't until halfway through the movie that I was drawn in and wanted to know what happened next. But it took a while, and for the first few minutes, I was questioning even continuing to watch. It wasn't the performances or the music, just how slow the story seemed to be going. 
The musical aspects were well done. When a song in Rent was inspired by a time in his life, the song was performed in the movie at that specific time. It all matched up to when he got his inspiration. My personal favorite scene is when he is at the diner. The front wall falls down and everyone inside breaks out into song and dance, all while being directed by Larson. This scene was beautiful and the choreography was lovely. 
Overall, the musical/film was great. The ending wasn't as satisfying as I had hoped, and although tears were shed, I wish they had gone more into depth with his life. Some scenes felt like time filler to make the movie longer. Taking some of those scenes out could have left room for more information, providing that extra "boom" the movie needed. 
Have you seen "Tick, Tick...Boom!" on Netflix yet?
Sorry, there was an error loading this poll.
View Comments (3)
Want to help the Herd? Please consider supporting the Periscope program. Your donation will support the student journalists of CHS and allow us to purchase equipment, send students to workshops/camps, and cover our annual website hosting costs.
About the Contributor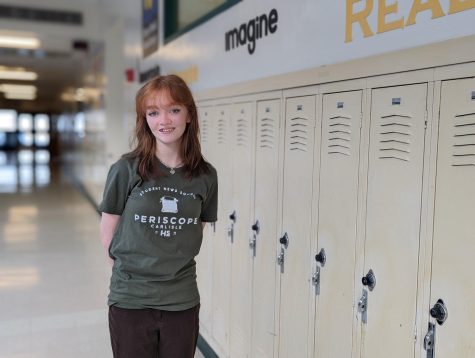 Rylie Workman, Staff Writer
Rylie is a freshman at Carlisle and this is their first year in the Periscope staff.  They finds joy in being around friends, writing, and staring at...