Swift reliving an era through re-released albums
Taylor Swift has been releasing hits for over 15 years, starting in 2006 with "Tim McGraw." Signed with Big Machine Records, she was not always given complete creative freedom. Now that she has been released from that contract she is re-releasing her first five albums, Taylor Swift, Fearless, Speak Now, Red, and 1989. She was young when many of them were first released and allowed herself to be overpowered by the people around her. 
For her fans, this means a return to their childhood as well as hers. Many of her fans grew up with Swift, listening to her songs about high school heartbreaks and the difficulties of being young while they were in high school. They listened to her sing about being 22 and not having to worry about what other people thought, and they felt empowered. Even her fans that were much younger, fans that are in high school now, could listen to her music and relate to what she is saying in her music all those years ago.
View this post on Instagram
Her fans that are in high school as these albums are being re-released are in for a treat, as they will be treated to a new perspective on life as a teen from a 31-year-old Swift. The acquired life experience will bring her older albums an elevated sense of wisdom in the music for her younger listeners. 
When asked about Swift's new album, senior Julia Dimino said, "I am very excited to see how the songs are going to be similar and different on the new release after all this time and I am excited to see what songs from the vault will be released on the album. They are very anticipated by her fans."
The album is being rereleased in the same way as the original release, meaning Swift released the rerecorded "Love Story" first. There are very subtle differences between the original and the new versions, the most prevalent being the more mature sound in Swift's voice. There are also subtle differences in notes which are only noticeable when listening for them. 
With the new release, the song has taken on a new meaning. Lyrics like the opening "We were both young when I first saw you" mean so much more with a 31-year-old Swift singing them. She sang about a boy from her youth while she was young, but now that she has grown up singing about a boy from her youth holds so much more meaning. 
There are many songs that Swift could not add to her albums due to time restraints, label requirements, and other obstacles. She has always teased these as her songs "in the vault" which "Swifties", a fond name for Swift's fans, have always wanted to hear as part of her albums. They are previously unheard, or just teased so they will be a whole new experience for any fan.
"I love her transition from country to pop to kind of indie," Michelle Disbrow, 12th grade English teacher said. "I have been to every tour, and I understand why she is re-releasing them. I love that she is doing it for herself and for her fans. Everything she does is ingenious and calculated. She is doing this for her fans and for herself, not for money, popularity, or sales."
According to Swift's website, her album will be available for streaming on April 9, but many fans figured that out from her coded message on her announcement Instagram post. Coding her album books has been one of Taylor Swift's favorite ways to communicate with her fans over the years. It has been how her fans speculate who or what the songs are about, as well as having insight into their favorite artist's life.
Taylor Swift has a very loyal fanbase, all of whom are seemingly excited for the rerelease of her albums. Reliving a vital part in the fans' and Swift's lives is something that not many fanbases get to do, and hers is "The Lucky One." 
View Comments (3)
Want to help the Herd? Please consider supporting the Periscope program. Your donation will support the student journalists of CHS and allow us to purchase equipment, send students to workshops/camps, and cover our annual website hosting costs.
About the Writer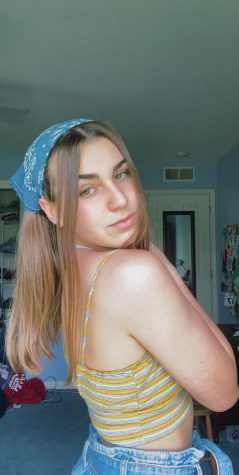 Kathleen O'Neill
Kathleen O'Neill is currently a senior at Carlisle High School. This is her third year as a Periscope staff member. In the past, Kathleen has written...