Shaking up the industry: Billie Eilish releases first album (Review)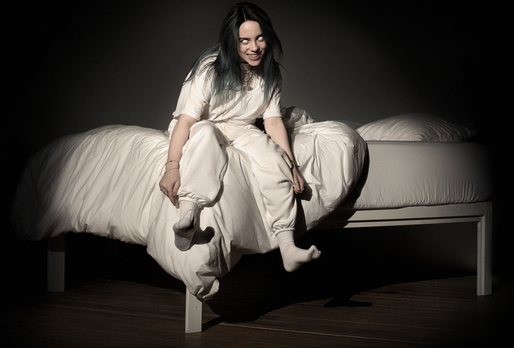 At only age 17, singer and songwriter Billie Eilish is completely changing the music industry.  Eilish's first studio album titled WHEN WE ALL FALL ASLEEP WHERE DO WE GO? was just released on Mar 31 and already turning out to be a massive success.  
Billboard estimated that the album will reach around 170 million on-demand audio streams for its songs, within its first week of release.  That would put the album in line with artists such as Ariana Grande for her album Thank You, Next and Cardi B with Invasion of Privacy.
Eilish's album is set up similar to a book, with the overall album telling a story and each song a chapter of the book.  
While the first track titled '!!!!!!!', was only 14 seconds long it showcased just how unique Eilish is as an artist.  Rather than starting her album off with a full song, it was simply Eilish stating, "I have taken out my Invisalign and this is the album."  Instantly I was captivated into seeing what the next song would be about.
The album contained many pre-released songs, therefore, I already knew what to expect from them.  The songs included "you should see me in a crown" and "wish you were gay."  
"wish you were gay" upon initial released sparked controversy within the LGBTQ+ community.  However, in an interview with PopBuzz Eilish explained that the song was written because she found out the guy she liked was not interested in her.  
"It literally means I wish he was gay so that he didn't like me for an actual reason," said Eilish.
Another standout song on the album is simply titled "8."  The song featured a younger voice, with Eilish's voice coming in and out.  The song depicted the feeling of hurt, and by using a younger voice, it captivates listeners even more.  (article continues after video) 
Something that allows Eilish to stand out, other than her vocals, are the visuals that accompany each song.  Her music videos truly allow Eilish to set herself apart in a fast pace industry, that is heavily competitive.
For instances in the music video for her song 'when the party's over', the set up of the video is very simple.  It is just Eilish sitting in an all-white room with a glass of black liquid sitting in front of her.  She then drinks it, and soon black liquid begins flowing from her eye onto her face and clothes.  Eilish truly creates her own path in the music industry by creating visuals that have never been done before.
At such a young age, Eilish has been able to have so much success.  She has created a way to bring a completely unique style and vocals to the music industry.  WHEN WE ALL FALL ASLEEP, WHERE DO WE GO? is just a stepping stone into what Eilish will accomplish next.