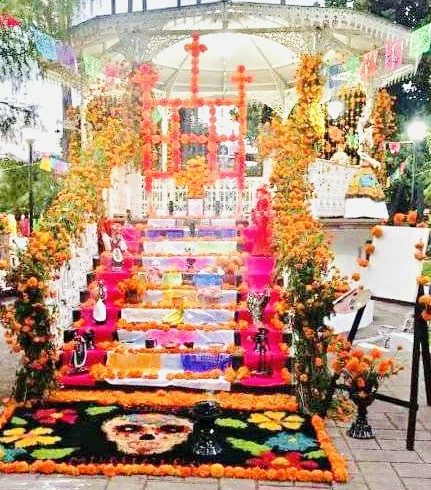 The leaves are falling, there's a crisp in the air, and the days are shorter. All this points to fall being here. Furthermore, Halloween is behind, and Thanksgiving is approaching quickly. Most are looking forward to the awaited fall and winter breaks, filled with resting and relaxation. But many are skipping over a holiday that has been around for over 3,000 years that is celebrated in the U.S. and many Latin countries. 
That holiday is Día de los Muertos. This colorful holiday that is warmed by candles and marigolds is past us but it's important to be educated. 
Day of the Dead is the translation for Día de los Muertos. Día de los Muertos is a Mexican originated holiday that is celebrated between October 31 and November 2. Though these are the days they are mostly celebrated, there are other days reserved for categories of the dead. 
October 27 is reserved for beloved spirits of past pets. October 29 is reserved for lost souls; in other words, this day is for souls that are lost or have been forgotten. October 30 is for souls who have passed in a tragic accident. October 31 is for children and ancestors who have died without being baptized.
November 1 is known as Día de los Angelitos, this is Spanish for Day of the Little Angels. This day is for children who have lived briefly on earth, it is believed that the children are so excited to come back home that they come a day early. November 2 is the day to honor adult family members and friends who have passed. These are all the days that are specifically reserved for souls. 
Altars are set up on October 31, but can be set up as early as the 27 of October. These altars are known as ofrendas. Ofrendas are filled with offerings for the souls to be greeted with on their way back from Chicunamictlán (Land of the dead). 
Chicunamictlán is the land where all souls go after their life is cut short. The journey back from the land of the dead is very extensive and tiring, this is why water, bread, favorite foods, and water are placed on the ofrendas. The dead have to go through 9 challenging levels, this journey can take several years to accomplish. Getting through the 9 levels takes about 4 years to complete. This consists of the body decomposing to a skeletal form, dodging boulders while climbing mountains, facing snowstorms, and being guided by a spirit to complete this journey.
Día de los Muertos is illuminated by candles and papel picado. The candles act as light in darkness, helping the dead find their way back home, this is a staple in an altar. Papel picado is tissue paper cut up in designs that are used to decorate the ofrendas and streets of Mexico. Cempasuchil (marigold) is scattered in a path leading to your ofrenda to help lead the way. It is believed that there is a bridge of cempasuchil that connects the living with the dead. On the 31 of October, at midnight, the dead cross this bridge to find their family.
Día de los Muertos is a blend of Mesoamerican ritual, Spanish culture, and some elements of Catholicism. Although this day can be religious and tie into the catholic religion, it isn't officially a catholic holiday. This holiday is about reuniting with your loved ones and not so focused on which religion you partake in.
There are many aspects of Día de los Muertos, festivities, food, tradition, and most importantly history. All of these element's tie into the holiday, but the history of this sacred holiday is most important. 
According to History.com the history of Día de los Muertos can be traced over 3,000 years back to Aztec rule. Día de los Muertos was celebrated by Aztecs and Mayans way before the colonizers arrived in Mexico. The ancient Aztecs had a different view of death than the western part of the world. The Aztecs believed that death is just another part of life, and that death wasn't the end.
This belief was of appeal to the Spanish, so after the 16th century Medieval Spain adjusted to these customs and also started to celebrate the dead. They would throw feasts and dance with their loved ones. The influence of the Aztecs and Mayans really began spreading after the discovery of the Spanish.
This Mexican holiday consists of many ancient traditions that have remained on this earth for thousands of years. Día de los Muertos is a time to reunite with loved ones that have gone too soon. This festive holiday reflects a positive outlook on death and spreads the belief that the dead are never really gone.