What's over the corner: the Bison Corner
Hang on for a minute...we're trying to find some more stories you might like.
"
"I like how we can be pretty independent with it so it's like a true entrepreneurship experience."
— Genia Purdy
From Carlisle-themed clothing and accessories to snacks that students are constantly buying, on the corner next to the McGowen Gym is CHS' school store: the Bison Corner.
The Bison Corner is student-led and is managed by three seniors, Genia Purdy, Caroline Carson, and Abbey Levy. All three of them previously took the entrepreneurship class in their junior year with Joseph Wagner, the previous business teacher for entrepreneurship class. 
"I took an entrepreneurship class and Wagner approached me to run the store,"  Purdy said, explaining how she became a manager of the store.
New approaches and changes have been implemented to make the store more appealing and opening for students.
"We are really trying to bring in more products that are focused towards the students because last year, there were a lot of products for staff that I don't really think interest kids," Carson said, comparing the past years of business to this current year. "We are trying to bring in more trendy products."
Their business goal and plan has also changed from the past years. The managers want students to know that they are able to shop there and not just hanging out in the store. Additionally, they want to make it a comfortable setting for students to be able to buy the products they want.
"We cleaned up the store and help customers or do sales," said Levy, describing what they have been doing and changes they made so far. "We made it prettier inside and more put together."
"
"I get to put my own spin on something in the school so it's something I can manage and make it my own. "
— Caroline Carson
If any student is interested in entrepreneurship or leading a business, taking the entrepreneurship class and possessing good qualities of businessperson increases a student 's chance to be allowed to run the school in the upcoming years.
"I would recommend taking the entrepreneurship class and then make connections through [Albert] Parrillo or [new entrepreneurship teacher Kirsten] Larsen," Purdy said.
For updates and the featuring of new product being sold at the store, follow the Bison Corner on Instagram @bisoncorner.
"
"It's really fun; it was fun to see the growth of store. "
— Abbey Levy

About the Writer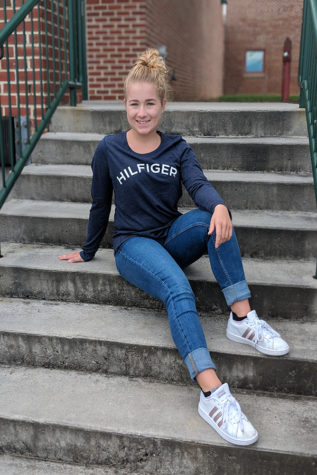 Skylar Bowers, Student Life Editor
Skylar Bowers is currently a sophomore at CHS, and this is her second year on the staff of Periscope. She is the editor for Student Life this year. Skylar...