With the girls soccer season moving on to district playoffs, it makes one wonder how it was all manageable. How are they able to compete and perform well in school? Do they have good performance on and off the field? Luckily, the CHS girls' soccer team captains have all the answers.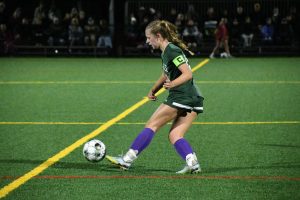 Senior team captain and defensive-midfielder, Aliah Ring shares that she focuses on being productive during the times when she is not at practice or a game. She likes to use her study halls to complete her schoolwork. Ring also explained how she handles the recovery of missing school when she leaves early for games.
"The teachers are always very understanding, and I usually just check in with them during the next class to see what I missed," Ring said. 
She also mentioned that she thinks always learning more about the game and continuing to improve is key to her success. 
Fellow varsity team captain, senior striker Maia Iannuzzi, commented that her biggest accomplishment athletically has been scoring 20 goals this season. Recently, she reached a monumental 100 points in her high school soccer career.  
"I think my dedication and keeping a focused mind is the most important thing for me." Iannuzzi said, "My faith is also the biggest thing I keep central in my life to ensure I stay grounded and in check."  
She keeps herself productive by doing her homework and studying at proper times to prevent herself from burning out. 
Team captain and center back, senior Addysen Fitzgerald has found her biggest attribute for success is never giving up.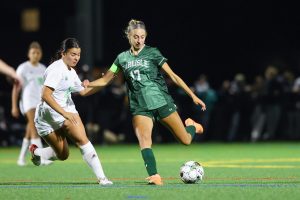 Fitzgerald said, "The most important thing for success is having a great work ethic and never giving up on your goals.
I have come really far through being consistent in training and working hard on the field whether it is practice or games!" 
And for the biggest question of all: What are their plans for after graduation? Aliah Ring plans to attend Wheaton College to major in Elementary Education and continue playing soccer. Maia Iannuzzi plans to attend Millersville to play soccer and study Pre-Med. Addysen Fitzgerald plans to get her doctorate in Physical Therapy and has committed to playing soccer for Misericordia University, which is her biggest accomplishment.
"
If you can't take criticism, you will never get better. You also have to be determined. Natural ability can only take you so far if you don't have a drive to win. 
— Alyvia McBride
Some newer perspectives to the team come from the freshmen players as it's their first year experiencing stress when it comes to time management and success. 
Freshman on varsity, Alyvia McBride provided her routine when it comes to her busy schedule, "Between school, practice and games I'm pretty busy, but I manage by doing my schoolwork as soon as I can and using any free time at school to be productive. I do this to try and avoid late nights doing homework, although sometimes it is unavoidable because of far away games."  
She explains that when she must miss class, she reaches out to her teachers and tries to complete her work after practice or any time during study hall. 
McBride also remarks that she believes the most important attribute for her success has been coachability. "If you can't take criticism, you will never get better. You also have to be determined. Natural ability can only take you so far if you don't have a drive to win." 
The girls have the drive to win, and they're able to perform both on and off the field. Make sure to follow their game at districts scheduled for today, Tuesday, October 24th where the Lady Herd takes on Manheim Township in the first round of playoffs.