October Athlete of the Month: Casey Padgett
Senior Casey Padgett's last season for the Herd has been a special one. After the departure of former CHS cross country captain Jack Wisner, Padgett has stepped into a strong leadership role on the team. Padgett won the Boys' Cross Country Mid-Penn Championship race on October 12 and set a career Personal Record, or PR, of 15:59.0. Padgett also took 21st at the Carlisle Meet of Champions, one of the biggest invitationals on the East coast.  
Padgett has been running for the Herd since seventh grade when he ran on the middle school team. His family, however, has a rich history with the XC team, with his 3 older siblings- Corbin (2013), Caitlyn (2016), and Caleb (2019) all being key pieces to their teams during their times at Carlisle.  
Q1: Since you've been running at Carlisle since you were in the seventh grade, what has been your favorite part of your running career so far?
A1: I would have to say my favorite part is usually getting to know the guys that are new to the team every year. My favorite year was my sophomore year because we had such a good team and everyone did [well] that year.
Q2: With Jack Wisner graduating last year, how is it different for you this year, being a captain on the team rather than looking up and following the lead of another runner?
A2: It's definitely a lot different stepping into the leadership role. [It] is a lot of responsibility: making sure that the guys are actually focused, and doing what they're supposed to be doing. I felt like I was ready. It's definitely a lot of fun like you get to see guys improve and show them an example of what hard work looks like, and where they could be in a couple of years if they choose.
Q3: To you, has your hard work paid off over the years?
A3: Absolutely, for a lot of people, even if you ask my coach he would say I do have talent, and I would have to agree with that statement, but most of where I am is built on hard work.  Yes, one-hundred percent, the hard work paid off. To any runners out there, any young runners coming up, hard work always pays off, whether you think it or not. It will, so just keep working.
Q4: Any goals for the rest of your time here at Carlisle?
A4: We have Districts coming up this Saturday, and I would like to finish the top five there.  Then we have States the next week, and I want to hopefully get a medal.
Q5: After your time at Carlisle is over do you have any plans for running the rest of your life?
A5: I would like to run in college. I'm not sure where yet, but hopefully I will be.
About the Writer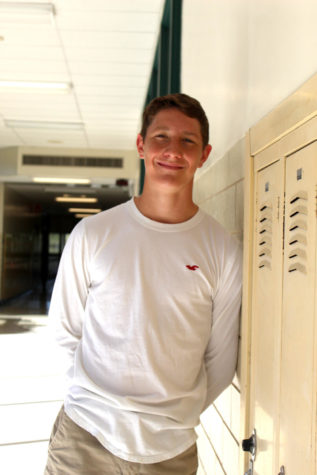 Jarrett Wilson, Staff writer
Jarrett is a junior at Carlisle High School. He enjoys being very active outside of school, he plays three sports for the Herd and is a member of Junior...