Flying above and below: different sports and their reports (Editorial)
Sports in the news do not always get the recognition they deserve.  These stories seem to come in bunches across the news but some fade into the darkness quickly.  Everybody knows about big games like the Super Bowl or tournaments like the World Cup and Wimbledon, but others that may have deeper social issues embedded in them can hide in plain sight.
Some of the stories are discussed but are not taken any farther than the talk show they appear on like ESPN and other sports networks, such as passionate discussions on the lack of minority coaches in the NFL.   
According to an article by Jahmal Corner on Reuters.com, "Only two African American head coaches and one general manager remain after multiple coaches were axed on Monday [Dec 31] following the end of the regular season[…] Carolina Panthers Coach Ron Rivera, who is Latino, is the only other minority head coach."
These are only three of the current 32 coaches in the league, making minorities a staggeringly low 9%. This is a very hot-button topic as the NFL is the most popular American sport. The NFL has already been under scrutiny with the Colin Kaepernick situation and the lowest Super Bowl ratings since 2009; possibly the league can look at the leaders of these teams for indication why.   
However, Miami, which is known to be a diverse city, just hired their first minority head coach in Brian Flores. While not fully representative of the city and its community, hiring him has been a great step during this offseason.
The NFL is always a media magnet, and stories like this and the Kaepernick situation has too many eyes focused on it to go unnoticed.  This has become a mainstream story and will only grow in exposure once the NFL offseason goes into full swing. The NFL will need to find other solutions to the Rooney Rule (a rule that forces NFL franchises to interview at least one minority in search of filling a coaching vacancy.)
A global story that is at the forefront of soccer fan's minds across the world is the crushing injury of Brazilian and Paris Saint Germain (PSG) soccer star Neymar.  
According to an article from Goal.com by James Westwood, "The Brazilian sustained a metatarsal injury in his right foot during PSG's clash against Strasbourg in the Coupe de France round of 16 matches on Jan 23, and he received a thorough examination at the club's training ground on Tuesday.  Following the review, Neymar has been ruled out of action for 10 weeks, which will see him miss a crucial run of fixtures for the French champions."
Neymar is a worldwide star who has captivated fans with the famous moves of a rainbow or sombrero flicks and has now, at the age of 27, been faced with his second major foot injury in the past year. PSG faced English powerhouse Manchester United in the Champions League Round of 16, winning 2-0 despite being without, arguably, their best player.
Another story that many non-NBA fans might not know about is Becky Hammon, the San Antonio Spurs assistant coach.
According to a USA Today article written by Greg Moore, "She's the first full-time, paid female assistant coach in the NBA. She was the first woman to coach in an NBA All-Star Game. She was the first woman to lead an NBA Summer League team. She turned down a chance to become the first woman to coach an NCAA Division I men's team. She was the first woman to interview for an NBA head coaching job. And most recently she was the first woman to be promoted to "front-line assistant coach" of an NBA team."  
It is mind-boggling that there had never been a female assistant in the NBA before even though, there is a women's professional league in the WNBA that gains national TV coverage and has some former players as analysts.  Hammon is in line to be the first female head coach, even though that will still be a major hurdle for her to leap over.
The vastly underlying sexist tones are still involved in professional sports as shown by Hammon and others across other sports.  The male-dominated sports culture has continued to loom but seems to go unnoticed by major media outlets.
Many stories are out in the sports world but can't grab media attention due to lack of eyes being focused on them.  All sports deserve to be spotlighted by the news like the big ones mentioned above.
Disclaimer: Articles designated as "Editorial" represent the views and opinions of the author, not the 2018-2019 Periscope staff, CHS/CASD administration, or the CHS student body.
About the Writer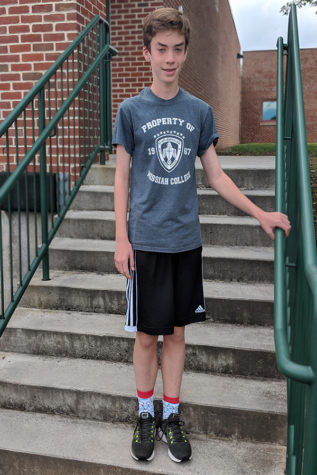 Michael Raphael, Staff writer
Michael Raphael is currently a freshman at Carlisle Area High School, and this is his first year on Periscope staff. He will write for various sections...