Steroids in sports: Not just national news (Editorial)
Hang on for a minute...we're trying to find some more stories you might like.
With the 2020 Tokyo Olympics approaching quickly, there are some aspects of sports that become more prominent, including the upsurge of steroid presence.  Athletes feel an unrelenting amount of pressure to earn a chance to represent their respective countries.
Each time the Olympics roll around there is an increase in the amount of the press coverage of the athletes using steroids.  For the 2018 PyeongChang Olympic games, the Olympic committee made a big step in the right direction: they banned Russia from the games for past drug violations.
According to an article published in the Washington Post by Will Hobson, "In the 2014 Winter Games in the Black Sea resort of Sochi, Russia led the medal count, with 33 overall and 13 golds.  But Russia's success at those Olympics, according to former Moscow antidoping lab director Grigory Rodchenkov, came with some assistance behind the scenes."
The athletes in these huge professional sporting events are under supreme amounts of pressure that normal people would not understand.  However, I feel these pressures should not lead to cheating.
Many have this same opinion.  Steroids give the athletes a greater chance of winning because they could increase one's muscle mass, strength, or even the ability to intake oxygen, making the athlete significantly better than themselves when not on steroids.  The athletes are given an unfair advantage when using a form of drugs.
In order to make the competition fair, there must be no use of steroids by any athlete to ensure that they are all on the same playing field.  This is what makes the top sporting events like the Olympics so intriguing. With large worldwide events approaching, the suspicions of foul play increase.  Every athlete is more prepared to be drug tested or caught during these times.
However, what many people don't realize is that some high school and college athletes are going through similar pressures every day of their seasons.  They feel the pressure to perform and turn to performance-enhancing drugs.
According to the National Federation of State High School Association's infographic by Jane Otterson of Confirm Biosciences, "3-12% of adolescent males and 1-2% adolescent females admit to using [anabolic steroids] at some time during their life."
Even though there is not a significant percentage of children that admitted to it, there are still children using the drugs.  Student-athletes should not feel the amount of pressure that they determine that they must turn to drugs that make them better.
The presence of steroids in the news make it more well-known and accessible to young adults like high school students to get them.  Students are easily impacted by those they look up to.
"4/10 teens say their decision to take steroids was inspired by professional athletes who took them," Otterson said.
"
3-12% of adolescent males and 1-2% adolescent females admit to using [anabolic steroids] at some time during their life."
— Jane Otterson, Confirm BioSciences
To solve this issue we must bring down the use of steroids in professional sports.  As long as there are clean sports in the more well-known events then the 3-12% mentioned earlier would hopefully go down to less than one percent.  
High school athletes have many factors other than just the influence of professional athletes aspect that make the athletes want to take steroids.  
The athletes are under tremendous stress during their individual high school seasons.  They might feel pressure to perform if their team is struggling, succeeding, or in the state championship or something equivalent.  
According to an article published by The Recovery Village an institution in Florida, "A student's athletic performance in high school can have an enormous impact on getting into the schools they want — which can impact the rest of their lives, as well."  
This article also published many other potential factors that could have impacted their decision.  The article listed forms such as college athletic scholarships, high school popularity, teen body image, and the influence of professional athletes.  
There are some high school athletes that are also competing in the professional fields as well.  These athletes are incredibly gifted in their field. They would need to prepare to compete at the highest level even when they are competing against high schoolers.  
The youngest Olympic athlete was a ten-year-old gymnast Dimitrios Loundras in the 1896 Olympics in Athens where he won a bronze medal.  The youngest athlete at the 2016 Summer Olympics in Rio was Gaurika Singh a 13-year-old swimmer from Nepal.
The younger the athlete, the more sustained amount of pressure they will be under over a multiyear period.  We must hope that the use of steroids in sports continues to decrease in order to ensure the safety of all athletes and the level of fairness in the competitions.  No one wants to hear about a cheater winning.
Disclaimer: Articles designated as "Editorial" represent the views and opinions of the author, not the 2018-2019 Periscope staff, CHS/CASD administration, or the CHS student body.

About the Writer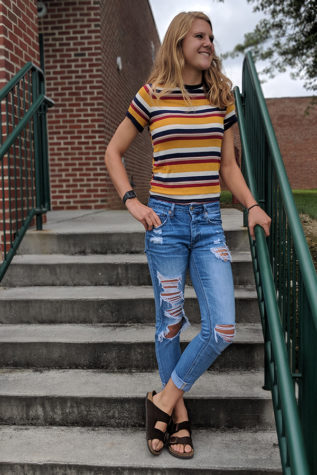 Meg Tate, Sports Editor
Meg Tate is currently a senior at Carlisle High School and this is her third year in Periscope and is the Sports Editor.  Meg is a member of the Senior...