November Athlete of the Month: Jessalyn Morrow
Hang on for a minute...we're trying to find some more stories you might like.
November's athlete of the month is Jessalyn Morrow. A junior, Morrow was a huge part of the tennis team's success this year. Morrow's position is double two on the varsity team. She's been playing this position since her freshman year of CHS. This year the girls' overall winning streak was 15 and 0. We got a chance to catch up with Morrow to ask a few questions on her thoughts and feelings about playing tennis and this past season's successes.
Q: When did you first start playing tennis?
A: I played tennis ever since 2nd grade, and I've had the same instructor that knows how I play and [has helped to make me] become better.
Q:  What do you like about tennis?
A: I like the confidence it gives me and being part of the team. I get confidence by being able to balance my nerves. My team is like my second family without them I would not be who I am today and they are always there for me.
Q: Is playing tennis stressful?
A: Yes very stressful, because you're not only letting yourself down when you lose; you let your team down. And for me, I have anxiety, and even if I lose, it's still very stressful, and having thoughts of letting my team down hurts me inside.
Q: What is the most stressful thing about playing tennis?
A: Not having referees and trusting the other teams to make good calls. So if other teams make bad calls, you can't do anything about it, which is hard for me.
Q: How do you feel about your great season this year?
A: I'm so thankful, and I've never been happier with the team and myself. The past two seasons were rough, and finally being able to make it to States was a great honor, not only for myself but for the team, and made me love this sport again.
Q: Is there anything that you feel the team could work on?
A: Yes, being more consistent and getting used to hitting harder balls. I also feel we should be more connected to the JV team too and be more open with each other.
Q: Are you planning on playing tennis next year? If so do you have any goals?
A: Yes I am definitely playing next year, and I want to stay on varsity like I did this year. I also want to take the game a little more seriously next year than I did this year; I kinda took it for granted until we got to States.

About the Writer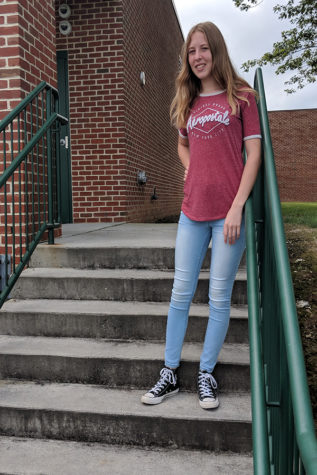 Shayna Rhoads, Staff Writer
Shayna Rhoads is a freshman at Carlisle High School, and is a staff writer on Periscope. She loves to talk to people and get to know new things every day....