CHS golf swings through the season
The Carlisle High School golf team has not usually been a well-known team at CHS, but this season's success makes the future seem bright.  This year the team has developed returners and newcomers into one of the powerhouse teams in the Mid-Penn Commonwealth. The team finished in third place overall in the division, much higher than the previous season's last-place finish with no wins.  
There are several new factors that have caused the team to be much more successful than the past. The biggest factor: new coach Lucas Zampelli, an eighth-grade teacher at Wilson Middle School, who was introduced as coach before the season began and was able to turn the individual golfers into a team.  
The team competed last year with just three members; this year they competed with ten.  Many of these students just moved into the school district and made an immediate impact.
 "They fit in with us well," Zampelli said. "They cared about how the others were doing more than how they themselves were doing. "
The golf team was greatly impacted this year from the U.S. War College, two of the top three competitors this year are brothers that moved in from South Dakota.  
The brothers, Strider and Cade Jacobson, were our numbers two and three all regular season pushing the team to get very important points.  The pair, along with top player John Peters, a sophomore, represented CHS at the Mid-Penn Championships held on Sept 24 at Dauphin Highlands Golf Course.  
"Coming into CHS, joining the golf team and being able to have an impact was an awesome experience," Strider said.  "Being able to represent Carlisle in golf was something that I was looking forward to when I moved here."
Cade ended up finishing tied for 46th place, with Strider not far behind tied for 62nd out of 92 total competitors. 
Peters ended up having the most success out of the group, finishing in eighth on the day and qualifying for the District III Championships.  The top 20 go to Districts and from there the top 18 boys go on to Regionals then roughly the top 25 from there go on to States.  
"I played relatively poorly at Mid-Penns," Peters said of his Mid-Penn performance.  "It was my worst round in the high school season, and my game was trending really strongly prior to that…  On my front nine, I had a stretch of three bogeys followed by a double bogey, diminishing my chances of winning.  The rest of the day I played solidly, but it was frustrating to post a 77."
He hopes that his performance at Districts will be much better so that he can achieve his goals of making it to the PIAA State Championships, which would be a very successful feat for a Carlisle sophomore.  
Coming into the season Zampelli knew that he was going to have Peters on the team after he had a successful season as a freshman last year.  However, Zampelli had the same goals for Peters as he did everyone else on the team.
"I knew that coming into it we wanted to get the kids under their averages from last year in every match," said Zampelli. "Every one of the kids came down in their averages so very successful.  For the new players we got averages this year and hopefully, they will be able to lower their averages next year in every match." 
The CHS golf team finished the season with a 17-13, the best record in recent years.  Peters competed at Districts on Oct 5-6; he finished tied for ninth and will move on to Regional play.  Regionals will be held on Monday Oct 15.
About the Contributor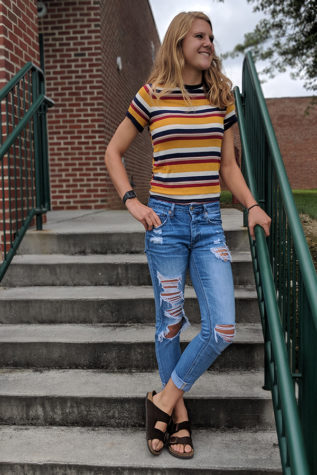 Meg Tate, Sports Editor
Meg Tate is currently a senior at Carlisle High School and this is her third year in Periscope and is the Sports Editor.  Meg is a member of the Senior...