October Athlete of the Month: Destinee Foust
Hang on for a minute...we're trying to find some more stories you might like.
Destinee Foust is currently a senior on the varsity cheerleading squad. She has been a strong supporter for the Carlisle Herd Football team over her three years.  The cheerleading squad supports many different teams throughout the fall and winter seasons.  There is also a competition team over the winter so the girls have to balance all of the different types of cheer.  We had the chance to catch up with Foust recently.  
Q: How long have you participated in Cheerleading?
A: "This is currently my third year."
Q: What influenced you to begin Cheer?
A: "I always thought it would be something fun to do since it incorporated a lot of teamwork and spreading positivity. Plus my mother and aunt both did cheer when they were younger, so I wanted to keep it going."
Q: How has your experience been since you've started?
A: "It has been really good. It helped me come out of my comfort shell."
Q: Do you feel like it helped shape you into who you are today?
A: "Yes, because when I first started cheer I used to be very quiet and tended to keep to myself. Now I'd consider myself a lot more outgoing and less shy since I was pushed outside of my comfort box. The only way we could be successful is if we worked together as a cheer squad, so I learned how to communicate with all the girls."
Q: What was your impression of your first year of cheer?
A: "It was definitely awkward, because I didn't really know anyone. Plus I wasn't familiar with the routines and made a lot of mistakes."
Q: How did you transition from that to now?
A: "Well I had one of my friends start with me. I was also able to become close with some of the other girls. After a couple practices, I began to better understand the routine as well."
Q: Did you have any big struggles to overcome as you became more involved?
A: "When I first started flying I wasn't very certain I could trust everyone at the time, so I had to overcome the fear of falling, but also being able to put my trust into someone I am not entirely familiar with."
Q: What is your stance on the statement when someone says, "Cheerleading is not a sport."
A: "I believe that cheerleading is a sport because no one really realizes how much we have to put into our routines and practices. If we aren't communicating, just as any other team would, we wouldn't have a good routine. Cheer keeps us in shape as any sport would. Plus, we have to compete too, which is something that someone who plays a sport has to do to. Cheer takes a determined and open-minded person because it is very difficult to do without having experience or background knowledge on stunts."

About the Writer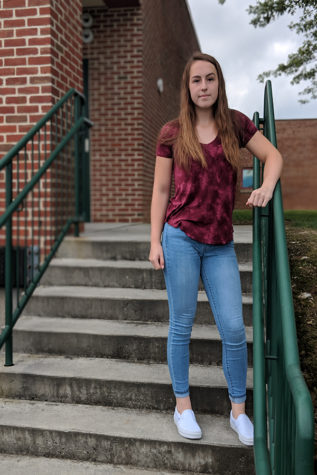 Kaitlyn Peck, Staff Writer
Kaitlyn Peck is enrolled in Carlisle High School as a sophomore. This is the start of her journey through periscope with it being her first year. Kaitlyn...