Thank you seniors: Carlisle basketball brings the thunder against Waynesboro on Senior Night
Hang on for a minute...we're trying to find some more stories you might like.
Parents and students pour into the McGowan gym, anxious for a winning outcome for the varsity boys basketball game on Friday, February 9 at 7:30. Being the last game of the season for the 2017-2018 seniors of the Carlisle team and cheerleading squad, the stakes were high.
There were ten seniors being recognized, including cheerleaders Arianna Floyd, Sariah Grant, Josie Carlton, and Emily May, and players, Ki Barnes, Eveyon Davis, Joe Mastrangelo, as well as Nigel Newson and Gavyn Barnes. Newson and Gavyn Barnes were both injured but toughed it out to walk their trail of glory to the center of the court for recognition before their game and for the first minutes of the game.
After a JV game well played, in which CHS won (48-43), the varsity team then made their way out for warm-ups.
The seniors started the game off strong, but the rest of the varsity team then had their time to shine, including James Barlow, who also plays for the JV team.
With the first quarter having ups and downs for the Herd, the pack remained strong with a lead of 23-16.   Junior Howie Rankine hit a buzzer-beater 3 pointer to close out the quarter.
The first half of the game flew by with the boys leading the game with four more points than Waynesboro: 30-26.
Waynesboro was determined to make a comeback, and they soon tied with their challengers in green and white by the end of the 3rd quarter.
The crowd was on the edge of their seats, focused in on the close battle in the last quarter. Both sides made great passes and drained shots as the time dwindled down.
Very late in the quarter, Carlisle struggled to keep their lead but refused to give up the fight against the Waynesboro Indians.
With a final block from Mastrangelo to save the rivals from scoring and tying the game, which would have sent the teams into overtime, the Herd finally secured their victory, 61-59. 
Carlisle has clinched a playoff berth for the 6th year in a row; they will play Wilson in the first round of district play on Tues Feb 20 at 7:30pm.

About the Photographer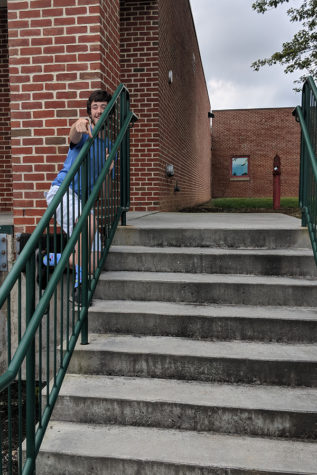 Cameron Fritz, Publications Manager
Cameron Fritz is a senior at Carlisle High School. This is his second year on the Periscope staff and he holds the title of Publications Manager. Cameron's...