Miller presents her story through colors with "Chapter One" (Review)
Hang on for a minute...we're trying to find some more stories you might like.
Seeing red.  Feeling blue.  Emotions are frequently associated with colors, and for one artist, this combination is a recipe for beautiful music.
Former X Factor contestant Bea Miller released "Chapter One: Blue" in late February of 2017.
This is the first of three albums she will release every three months. The chapters will combine to tell the story of how Miller learned she was in a toxic relationship that was not healthy for her.
The color blue is associated with her first chapter and is meant to convey the emotion of sadness, regret, and loneliness.
The first song entitled "A Song Like You" is a powerful release of frustration. She discusses the feeling of not being able to get someone out of your thoughts. This song held the most resemblance to Miller's earlier music.
"Burning Bridges," the second song in the chapter gives the audience a more mature sound. Miller plays with the nursery rhyme "London Bridges" as she narrates the experience of depending on someone that has become distant in her life.
The final song in the chapter is a slow ballad, "I Can't Breathe". The piano helps narrate the feelings of sadness after someone leaves your life. The feeling of sudden, suffocating change was portrayed beautifully in this final song.
This new creative twist by releasing music in chapters like a book creates a more interactive experience for fans. Miller has said in interviews her connection with color and music has always been strong.
Telling her story through nine songs to expressing emotions inspires other young girls. It sends a message of strength and vigilance to her fans.
Miller hopes her fans find "pieces of their own story" within hers.
Her next two albums "Red" will be released in May and the final chapter, "Yellow," comes out in August.

About the Writer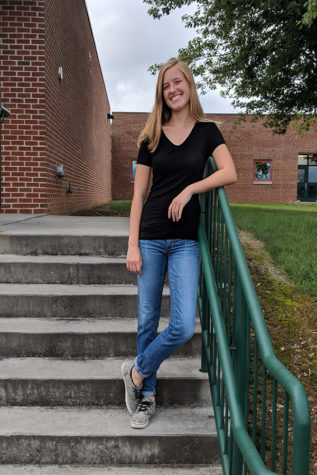 Carol Etzel, Magazine Editor-in-Chief
Carol Etzel is a senior at Carlisle High School. This is her second year as Magazine Editor-in-Chief. Along with Periscope, she also plays the clarinet...