Eyes wide open, shoulders strong: How social media is influencing the world's reaction to the Russia-Ukraine conflict (Editorial)
On February 24, 2022, Vladimir Putin, the authoritarian leader of Russia, declared war on its neighboring country, Ukraine.
Putin initially thought that the conflict would follow like the Russian invasion of Chechnya in 2009, that the Ukrainians would go peacefully, and that NATO, as well as the rest of the world, would turn a blind eye to it. 
Unfortunately for him, there were no blind eyes: only billions of them, their gazes turned on the feuding countries, all connected through social media. 
Russia is known for its tight crackdowns on the way information gets handled over social media. Over the last decade, Putin's weaponization of social media and his aggressive promotion of fake narratives have led to landmark achievements such as the invasion of Crimea in 2014 and the election of Donald Trump in 2016.
However, in the two weeks following the initial attack on February 24, the world has rallied in support of Ukraine, with the vast majority of the international community vocally condemning the Russian aggression. 
Ukrainian President Volodymyr Zelensky has emerged as an online hero. Photos, videos, and even live television interviews, all feature the leader clad in a fleece and cargo pants on the ground among his people as they fight against the Russian invaders. He has bravely accused Russia of war crimes, signed an application to join the European Union, and morphed into a symbol of hope and grace under massive amounts of pressure.
TikTok, the video-sharing app with more than a billion active users, has shaped the views of the conflict and contributed to the immense global wave of sympathy for Ukraine and its citizens. Videos ranging from information about the conflict, to live updates, to features about brave civilians brandishing new rifles, have sewn humanity together with a new connection: Stand with Ukraine.
However, watching a war unfold through screens is very different than actually living through it. In this video from the New York Times, Ukrainian computer programmer, Hlib Bondarenko says, "I wouldn't want to participate in anything like this, but I don't really have any choice, because this is my home."
This harsh reality forces those of us in the comfort and safety of our own countries to face a question that many are not ready for: What would I do if it was me?
And according to social media, the answer appears to be something, at least. Protest marches sparked across Europe and the United States, blue-and-yellow Ukrainian flags unfurling across thousands of bodies coming together for one cause. 
The social media response hasn't just affected the civilians of international countries, it's also affected their leaders. Swiss, Finnish, and Swedish neutrality has all but evaporated. The French economy minister has announced their direct objective of an outright collapse of the Russian economy. Post-World War II Germany's refusal to prioritize military spending and send arms to conflict zones has ended, and for the first time in history, a united 27-nation European Union has decided to provide Ukraine with more than half-a-billion dollars in aid. 
Even Russian soldiers, many initially unaware of what their real task was, have used social media to advocate for the war to end, a few even immediately surrendering to Ukrainian civilian forces upon arrival outside cities.
Major tech companies like Google, Meta, and Apple have taken countermeasures to the spreading of Russian disinformation that has proved so effective in the past. At the same time, these platforms have revealed an increasing Russian opposition to their own government, simultaneously lifting up Ukrainian voices.
Social media often holds a reputation as an ill-fated, sinful creation; something that has effectively doomed humanity. However, in times like these, when the people ask, "Who else but us?" the rest of the world is able to have their backs and say, "Who else indeed."
Disclaimer: Articles designated as "Editorial" represent the views and opinions of the author, not the 2021-2022 Periscope staff, CHS/CASD administration, or the CHS student body.
View Comments (2)
Want to help the Herd? Please consider supporting the Periscope program. Your donation will support the student journalists of CHS and allow us to purchase equipment, send students to workshops/camps, and cover our annual website hosting costs.
About the Contributor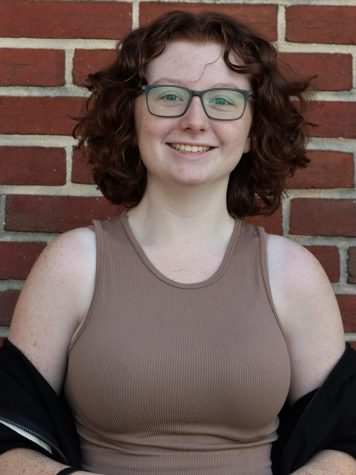 Ryleigh Underwood, Editor-in-Chief
Ryleigh Underwood is a senior at CHS and this is their fourth year on the Periscope staff. They are the manager of CHS's improv troupe, Wingin' It, the...