To go or not to go: Covid adds new challenges to the college admission process (Editorial)
One of the biggest concerns of graduating high school students is figuring out their future plans, the most frequent being college. The admission process for schools all over the nation tends to be very lengthy and requires many hours of work and research. Students are looking to find the perfect school that will offer them the best chance at success. After our current pandemic struck, many changes had to be made to aid students in the difficult application process, but the efforts added even more challenges to the system.
A huge factor in the decision process pre-Covid was choosing a location that best fits the students' needs. Most people desire certain climates, proximity to family, dorm room quality, positive vibes, safety, etc.
A blog by College Transitions said, "It will also be a chance to ask your tour guide questions about dorm life, the social scene, and other anecdotal information that is tough to glean from websites and guidebooks." 
It is very difficult to make an educated decision without going in person and checking things out, which is a new obstacle post-covid restrictions. Social distancing has caused virtual tours to be one of the only options for students at this point. 
Another challenge of the virtual tour is that it can't replicate everything you would see or experience. Most college visits used to include a tour with a student attending the school. This was an essential opportunity to get a perspective other than only the best highlights the school has to offer. It offered a comfortable environment that allows both parties to be honest and open about what student life is really like and if it fits their ideal situation. Upcoming students have to deal without this opportunity creating hesitation. 
Virtual tours dissuade many prospective students from attending which can lead to higher transfer and dropout rates later in the future. This is due to some households not having the required technology as well as some students just seeing it as a waste of their time. Along with hesitation and wrong decisions, not attending informational sessions universities offer can occasionally affect the review process. Schools like to see continuous interest in their campus and can make or break the acceptance of a student when things become competitive. 
In previous years, another deciding factor for competitive schools has been test scores in either SAT or ACT form. For the class of '21 students who were not allowed the opportunity to take these tests early-to-mid junior year, claiming a spot has been increasingly difficult. These organized tests continuously get postponed/canceled and spots are more limited than ever. This has required many students to either give up on the process or travel extreme distances (to other states) to find a spot. Some students can not compete with this added financial burden which places them in a difficult position. 
In addition, CollegeBoard announced recently that they will no longer be offering the SAT subject test.
"As students and colleges adapt to new realities and changes to the college admissions process, College Board is making sure our programs adapt with them," in an announcement posted to the Collegeboard website. "We're making some changes to reduce demands on students."
In response to the new challenge of testing, many colleges and universities adopted the test-optional process. Students may choose whether they would like their scores to be included in the evaluation process or not. Those who choose not to include scores will not be discriminated against because of it. This can benefit students who find standardized testing to be difficult but adds two other issues with this adapted system. 
Many schools require test scores for scholarships despite admissions being optional. Further education is a financial commitment that many people need assistance with through loans and scholarships. The total amount of student loan debt reached $1.47 trillion at the end of 2018 with as many as 44.7 million Americans having student loan debt, according to the Federal Reserve Bank of New York. With debt becoming an increasing issue as things become more expensive, access to scholarships is more important. Testing is difficult to come by but continues to be required by certain applications other than general admittance. 
The other issue is about inequality amongst schools. Without test scores, things fall directly onto GPA and class rank. 
"The problem with GPA requirements is that they are not comparable across schools," said Shaan Pateel, the CEO of Prep Expert, an SAT-ACT prep course. "For example, you will be looking at totally different GPAs if you are comparing a student going to a very elite boarding school versus a high school from a low-income neighborhood. To make this comparison work, schools need to take where students are coming from into account in every application." 
Many high schools also had to adapt at the end of the 19-20 school year. They became pass or fail whereas others stayed the same. That is on top of the already inconsistent grading system. An A at Carlisle High School is 95% or above whereas other schools require 90% or above. A 91% is a B+ at CHS and another student can have a B with an 81%. The variety is too much to compare from student to student, causing even more issues. 
Along with the SAT and ACT testing, many students feel compelled to take the AP tests in order to receive college credit, eliminating courses that they would have to spend money on in their future university career. Amidst the covid chaos last year, AP testing took on a new format, decreasing the length of the test and relying solely on short answer/essay question(s).
Sandy Epstein, a writer for Upchieve, said, "For some of you, you may have found this new style of testing harder (AP), and unfortunately, your test scores might reflect that. But don't worry because you are now under a lot less pressure to report those scores. So, hurray for you, too!" 
Some students need those test scores to test out of college courses they will require them to pay for even though they already know the information. The test itself was a decent amount of money to take, so many students hope to do very well to make it all worth it. AP scores being in review also allows for an extra thing for them to review instead of just GPA and class rank. It shows dedication to specific courses and confidence in their knowledge.
College admissions may be viewed as easier as the class of '25 enters, but the "benefits" given this year add more challenges than expected. If you happen to see a senior worrying about their applications any time soon, offer them comfort through words of encouragement. 
Disclaimer: Articles designated as "Editorial" represent the views and opinions of the author, not the 2020-2021 Periscope staff, CHS/CASD administration, or the CHS student body.
About the Contributor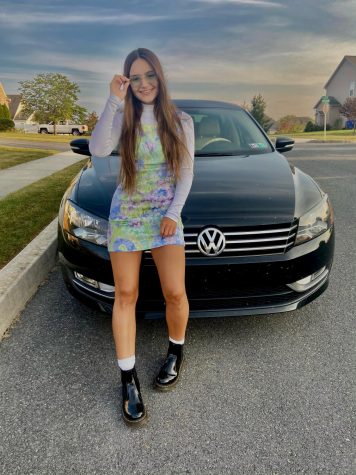 Heidi Heinlein
Heidi is currently a senior at Carlisle High School, and this will be her third year on the Periscope staff. In previous years, Heidi has been a sports...