Christmas 2020: A time for joy a little bit early (Editorial)
Christmas has been a favorite holiday across the world for centuries. It has been celebrated in different fashions through history, and our Christmas of today encompasses a more commercial outlook. 
This year has been particularly difficult, and while there is not much for people to look forward to, there will always be the joy that Christmas can bring people. Many people push for Christmas to start after Thanksgiving, as they feel that starting Christmas too soon will overshadow other holidays. Personally, I believe that if any year we can start Christmas early, 2020 would be it. With all of the chaos, a little bit of Christmas joy is exactly what we need. 
Commercial Christmas starts before Halloween at this point. The Christmas and winter-themed decorations start popping up in stores the third week of October, barely letting Halloween occur. 
"The holidays will be different for all of us this year, and our marketing campaign is all about inspiring guests to celebrate the beauty in simple moments of joy at home," says Rick Gomez in an article about Target's 2020 holiday campaign.
According to Statistica.com, 38% of shoppers start looking for Christmas gifts and Christmas shopping in general before the end of October. 
This is too early for it to be starting, but the second or third week of November is an adequate time for Christmas spirit to start brewing. Playing Christmas music, building gingerbread houses, and watching hallmark movies should no longer be seen as taboo. After all, Hallmark starts their own Countdown to Christmas movie marathon around the end of October. 
"I started watching Christmas movies with my family the night of Thanksgiving," said Natalie O'Neill, Carlisle junior. "The second the dishes were clean, we were on the couch watching a holiday movie."
Decorating for Christmas is something that brings many people joy, including my family. Breaking out the decorations and putting them all over the house brings light into the lives of me and my loved ones and allows us to be able to come home and forget about the stress of work, school, or a global pandemic. Not only does it put the members of my household in the Christmas spirit, but it also does for anyone who happens to drive by my home throughout the course of their day. 
Although this year's Christmas season may look a little different than past years, there are still numerous activities to partake in that make this time of year so special to so many people. From baking cookies to blasting Mariah Carey in the car, this holiday season has the same potential to be enjoyed by those who choose to celebrate.
In the end, it can be widely agreed that this year has been hard on everyone and although it may seem "too early" to break out Christmas sweaters, I think this year more than any other, it is acceptable to throw out the calendar, forget what date or month it is, and commence the holiday season. 
Disclaimer: Articles designated as "Editorial" represent the views and opinions of the author, not the 2020-2021 Periscope staff, CHS/CASD administration, or the CHS student body.
About the Writer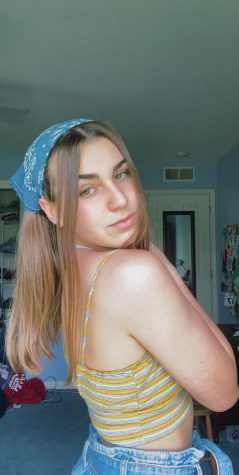 Kathleen O'Neill,
Kathleen O'Neill is currently a senior at Carlisle High School. This is her third year as a Periscope staff member. In the past, Kathleen has written...