Perks of writing outside school (Editorial)
Writing outside of school may seem like a waste of time, but it could end up making your life significantly easier in the long run. It could improve your grades and widen your career options.
English teachers require you to write essays, reports, or short stories.  This may seem difficult or tedious for some, but writing outside of school gives you enough practice to get better at it. It will make it much easier when you have to do it for a grade.
There are a lot of opportunities to write to your advantage. Scholastic offers rewards for good stories and poems. If you practice your writing outside of school enough, you could become good enough to make it to the national level of scholastic. $10,000 scholarships are given to 15 seniors who earn gold medals in general writing, as well as other categories.
Some people use the excuse that they aren't good at writing, but a little practice could make it easier. CHS even offers creative writing class for students who enjoy writing. It could improve the skills of a beginning writer by giving them something to write about and motivation to write it.
A lot of jobs require decent writing skills. Besides the obvious careers, such as an author, there are journalists, editors, critics, and teachers. Even if the job itself doesn't require much writing, the resume does. The better the resume is written, the better your chances of getting the job.
Good writing skills will also carry into the way you speak. Giving speeches will become easier. If you can write the speech out, then you can speak those words in a more distinguished manor. Public speaking will become less stressful if you can focus on the words just as you would in writing. The less stressed out you are, the more confident you'll seem to your audience.
Creative writing may not seem like it would help with formal documents, but it gives you practice with wording and sentence structure. It can also help heighten your vocabulary. By practicing writing creatively, you'll eventually see a decrease in grammar mistakes in all your writing.
There are no down sides to giving writing outside of school a try. Worst case scenario, is you spend a little time trying it out and realize it's not your thing. It could prove to be something you're interested in and could make your school years easier. There are no downsides to challenging yourself with writing on your own.
Disclaimer: Articles designated as "Editorial" represent the views and opinions of the author, not the 2015-2016 Periscope staff, CHS Administration, or the CHS student body.
About the Contributors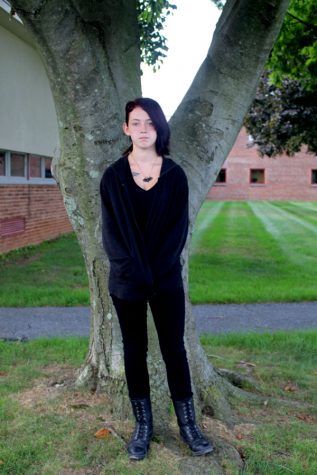 Kenny Brenizer, Perspectives Editor
Kenny Brenizer is a junior and the perspectives editor for the 2016-2017 Periscope staff. She does no sports. She has no hobbies. She just wants cats and...
Kate Muir, Adviser
This is Mrs. Muir's 12th year advising Periscope and she loves it more every year! She's an avid reader, loves dogs and being outside, and enjoys baking...