From stage to screen: CHS Shakespeare Troupe embraces new performing arts opportunities
The coronavirus pandemic has changed the way that high school students participate in extracurriculars. This year, Carlisle has seen an abundance of sports teams do extremely well at both state and local levels. However, the stage lights have not been shining, with the virus shutting down all of the high school's performing arts programs including Coffeehouse (which had to go virtual), the CHS musical, standup comedy troupe Wingin' It!, band, orchestra, and choir classes (which recorded virtual concerts), and the fall performance from the Carlisle Shakespeare Troupe.
The latter group, however, is making some changes so seniors can take their final bows and younger students can still participate in what they love, alongside their athlete counterparts. 
The troupe's head advisors Douglas Hewlett and Sue Hench have been co-running the program for over a decade, providing students two acting opportunities throughout the year in the fall and the spring. Their passion for Shakespeare and the arts has inspired their class of Page to Stage students to come up with a show plan that works around the pandemic, so that the show may go on despite looking a bit different. 
While the planning is still underway, the end goal is a multimedia-based project capturing the works of Shakespeare through student-created clips. These clips will be compiled together and shown consecutively, mimicking a live on-stage performance. Though the requirements are more flexible, with students being given opportunities outside of acting such as animation, editing, music, photography, or other creative outlets to bring Shakespeare's work to life. 
"
When you change a medium, you create new opportunities, but there are also new restrictions. We are excited to play with those boundaries and see what the kids bring to the table."
— Sue Hench
The directors have high hopes for the multimedia-based performance, using creativity and branching out to overcome the challenges laid out by the social distancing guidelines. 
"We knew we could do sonnets and monologues over Zoom, but that did not feel like enough," Hench said. "We always have our show right after Thanksgiving and this year, we knew something was missing and that lit a fire to get things started."
Hench, an active member of the Folger Shakespeare Library community, spoke with colleagues from the organization as a way to come up with unique yet effective approaches to putting on a performance, given the current situation surrounding the pandemic. Much of the process is still underway and in the planning stages, but directors and students alike are remaining optimistic. 
"When you change a medium," said Hench "you create new opportunities, but there are also new restrictions. We are excited to play with those boundaries and see what the kids bring to the table."
 "We believe in our students," Hewlett added. "This is a great way for new actors or students curious in the performing arts to get their feet wet. Because there are so many options and avenues that open the door to more kids who shied away from the spotlight before."
 The teachers are not the only ones grateful for this opportunity, with senior Anna Crawford gearing up for her performance this spring. While she is still working out the details of her project, the excitement is building for what is to come.
 "We've decided to embrace the necessary use of technology and use it to modernize our interpretation and presentation of our scene without eliminating Shakespeare's original language," Crawford said. "I've been a part of Shakespeare Troupe since freshman year, so even though it's disappointing that we haven't been on stage as we normally would, I'm so glad that our advisors have managed to figure out a way to keep these programs alive and engaging." 
Crawford plans to perform a scene from Act 1 of the 2020 spring show As You Like It, bringing back her casted part of Celia, which she learned prior to Carlisle's shut down last March. Crawford will be performing alongside fellow senior Olivia Renault, who was cast as Rosalind in the same show. 
When asked why she chose this as her project, Crawford said that "we think we've found a really fun and innovative way to bring that friendship to life without ever stepping foot on the stage."
Need some ideas: check out this festival trailer from 2017 (and see if you can find some of our current seniors as freshmen!)
 This year's virtual festival is far from traditional, however, with some students planning to tackle Shakespeare's work in a new way. 
Senior Jack Katunich plans to "take on the challenge of writing music with a friend for one of Shakespeare's pre-existing songs" and perform it virtually for the festival. 
"I think that the Shakespeare Troupe has always had a fantastic sense of resilience when it comes to this, and this leap of technology was the best way to do it," Katunich said. 
 Katunich closed his statements with a message to other students, focusing on the Troupe's family-like qualities and sense of perseverance.
"If you are even considering Shakespeare, try it out," Katunich said. "It's certainly hard on people the first year but I think it gives some of the richest experiences in school." 
     The CHS Shakespeare Troupe is still accepting students for the 2021 Virtual Performance. They are looking not just for actors, but any students with a creative passion that is looking to explore the arts and or help put on a new style of performance. If you are interested in more information, ask your English teacher for details or contact Mrs. Hench ([email protected]) or Mr. Hewlett ([email protected]ols.org).
About the Contributor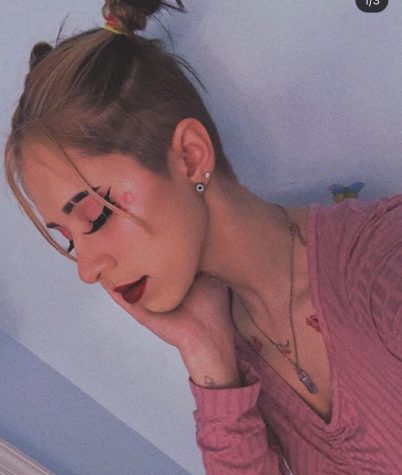 Rachel Martin
Martin is a senior at Carlisle, with the 2020-2021 school year being their first year on the Periscope team. They enjoy writing in their free-time and...