Ice, Ice, Baby: Ice Art Fest returns to Carlisle
Hang on for a minute...we're trying to find some more stories you might like.
The Ice Art Fest, presented by CenturyLink, will make freezing fun once again for Carlisle residents this weekend, Feb 9-11.
Robyn Dingle, the owner of the thrift store 2nd Time Around, (20 N. Hanover Street), is the chair and creator of the Ice Art Fest. Dingle, originally from Southern Pennsylvania, had the success of the Chambersburg Ice Fest in mind when she proposed her idea to the Downtown Carlisle Association three years ago.
"Having the past knowledge of the success of the Chambersburg Ice Fest, I figured that a similar event could take place here and be successful," said Dingle.
The Downtown Carlisle Association welcomed Dingle's suggestion.
"They picked up the idea, and it took about a year and a half to plan the first one," said Dingle.

Dingle and the Downtown Carlisle Association asked businesses around Carlisle to sponsor ice sculptures for the festival. In 2017, the first year of the festival, over 40 businesses participated, including Pomfret Street Books, a business owned by the mother of CHS student Vera Erfle.
According to Erfle, her mother enjoyed the festival and is participating again this year.
"She said it definitely helps with sales because if you have a cool ice sculpture, a big group of people will come and visit your business," said Erfle.
The number of businesses involved with the Ice Art Fest nearly doubled this year, with over 70 sponsoring sculptures. Different organizations have also been slated to provide entertainment at the festival, including dance group REACH! and improv troupe HoOt.
Small business owners were not the only people who enjoyed the festival.
According to Dingle, 25,000 people attended the festival in 2017, making it the largest event hosted by the Carlisle Downtown Association in several years.
"Downtown Carlisle needed a wintertime event to draw traffic downtown and into stores," said Glenn White, the Executive Director of the DCA, in the event's 2017 press release. "It has been a big task,  but Robyn had the vision for this event."
Erfle was one of the many people in attendance last year and plans to attend the festival again this year.
"I loved just walking around, and also watching the horses go around Carlisle," said Erfle.
Those who attended the festival last year will find new activities to take part in, including a digital scavenger hunt, where people will be encouraged to find the different ice sculptures around downtown Carlisle. Once the sculptures are found, participants will have to answer questions about the different sponsors.
"There will be a QR code at informational booths; it will ask questions about the different businesses," explained Dingle. "If you get 15/20 [of the questions] right, then you will be entered into a drawing for gift cards."
Erfle believes that the scavenger hunt will add to the event.
"I think it will get everyone more involved, and [get young people to] search certain areas they wouldn't necessarily have before," she said.
This year's Ice Art Fest will begin on Feb 9 (4pm-11pm) and continue Feb 10 (9am-11pm) and 11 (10am-5pm).  For more information and a complete schedule of events, check out Iceartfest.com 

About the Contributor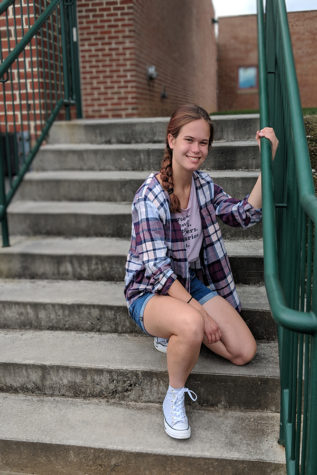 Samantha Martin, News Editor
Samantha Martin is back: back on the staff of Periscope for her third year, and back as news editor for her second. In addition to Periscope, Martin is on Carlisle High School's Model United Nations team, and is a member of National Honors Society, National English Honors Society, and the Coffeehouse organization. She loves dogs,...