Broadway brought to the Barr Auditorium: Carlisle High School holds its fifth annual Musical Revue
Hang on for a minute...we're trying to find some more stories you might like.
Music fills Carlisle High School in many ways, one being the Musical Revue that was held on November 8 in the Barr Auditorium.
The show was a cabaret filled with CHS students devoted to the music program, whether it be acting, dancing, or singing.  The performers selected one to two songs to showcase in front of an audience.   
Teacher Daniel Schade was the director, but senior Jamie Hafner also played a vital role in the production as the student director.
"Being a student directer entails getting the cast prepared, getting them rehearsed, sending out reminders, writing the emcee script, and helping the performers thrive as a whole," Hafner said about her job.  "It is incredibly rewarding, as I get to see the students fall in love with their characters and produce amazing work."
(story continues after slideshow)
The students involved are dedicated performers, who worked hard for several weeks to put on the show. They put careful consideration into the songs that they chose, as each one was a reflection of their talent.  
Senior Sarah Swahlon, a passionate performer who is a regular on the stage, stated what she enjoys most about the Revue: the opportunity it gives to students to experience different characters and music from a variety of musicals.
"My favorite aspect of Musical Revue is that I am allowed to pick any song from any musical I like," said Swahlon. "This allows me to pick the songs I most connect with, and I am able to play characters I would not otherwise get a chance to play."
To senior Grace Wellmon, Musical Revue is not only about her dance routine, but being surrounded by her friends.
"Everyone is super supportive, whether if someone successfully hits that difficult note, or if they stutter or their voice cracks," said Wellmon. "Also, as a theatre kid, I love performing any chance I get.  Being under the bright lights in front of the audience, while doing the thing I love the most, is where I'm happiest."

About the Writer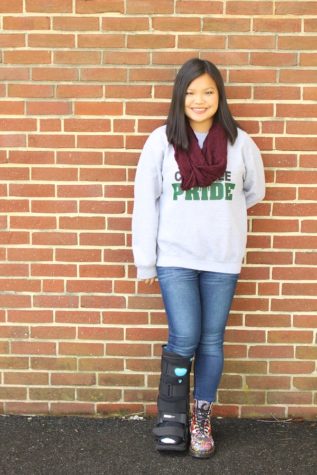 Claire Neiberg, Student Life writer
Claire Neiberg is currently a senior at Carlisle High School and is already loving her first year of being on the Periscope staff.  When she is not enduring the craziness of senior year, you can find her directing with the Shakespeare Troupe, managing the girl's tennis team, debating world issues on Model UN, baking in...