Literary therapy: 'Binding 13' and 'Keeping 13' explore the healing power of friendship (Review)
Novels Binding 13 and Keeping 13 by Chloe Walsh follows Shannon and Johnny, two teenagers, whose lives couldn't be any more different and can still somehow fit perfectly together anyways.  
Johnny is a seventeen-year-old, who comes from a wealthy and loving family. His only love has always been rugby; he's focused and determined to be the best and get to the top, ignoring any and all injuries he suffers. He wasn't going to let anything get in his way, until her. 
Shannon is a sixteen-year-old, who lives in a very toxic and abusive household. She has experienced more bullying than one could count, and this prompts her to move schools to Tommen College mid-way through the school year in hopes of a fresh start. 
These books hooked me in and I couldn't stop reading. They're super long, and the page count is kind of scary, but ignore the covers and the page length. It did get a bit repetitive, but the development of the characters throughout these two books were amazing and I loved how Walsh spaced it out. It was realistic, and you have to remember that these characters are in  high school, so they're still maturing and growing into who they are. The choices they make aren't always the sensible one and that's okay. 
However, I loved seeing their mindsets change. In the beginning of Binding 13, Shannon was shy, terrified, and wanted to be a lone wolf at her new school to keep under the radar, and Johnny was like the classic jock stereotype with a soft heart and insecurities hiding. At the end of Keeping 13, both were healing, Shannon was growing into her body, gaining confidence, and happiness while Johnny was starting his career with her by his side, while learning that rugby wasn't everything and that he was allowed to prioritize other things in his life.
"
Freedom suited her
— Keeping 13
Also, the friendships were incredible. I liked how Johnny and Shannon built a friendship first before entering a relationship, I loved seeing them develop in that and communicate relatively well. Even when they weren't officially together, it was like they were. I love books where the tough and grumpy character is soft for the main character, and this is that.

"Shannon like the river. Will you please be my friend? Two hand drawn boxes were sketched below the writing. One box had a yes over it, and the other a no. The yes box had a smiley face. The no box had a sad face" (Binding 13).
Johnny and Gibsie's friendship made me laugh out loud while reading. Gibsie is like the golden retriever best friend who's always making jokes and uplifting tense situations. The loyalty these two have, they were always there when one needed the other. They are the definition of ride and die, they bicker like siblings, and the bromance was hilarious and sweet.
"'You get it, Gibs,' I slurred happily. 'You get me.'
'I get you, buddy,' he coaxed, squeezing my hand." (Binding 13)
Shannon's relationships with both Claire and Lizzie in pairs and as a group, was written well. When Shannon was starting at her new school, she was anxious and scared to see her old friends after years a part, but they all clicked back into their friendships and roles. I loved how each were always there for one another, how they fought and disagreed sometimes, and came back to each other.
I really liked how the author was realistic in writing teenage relationships, friendships, and the emotions that come with it. Also, Walsh didn't just show the struggles that the main characters, Johnny and Shannon, faced, but also allowed the readers in on the struggles that some side characters faced as well.
These two novels are the first two parts of a series that takes place in County Cork, Ireland in the early 2000's and will continue to follow different couples from the same friend group.  
Leave a Comment
Want to help the Herd? Please consider supporting the Periscope program. Your donation will support the student journalists of CHS and allow us to purchase equipment, send students to workshops/camps, and cover our annual website hosting costs.
About the Contributor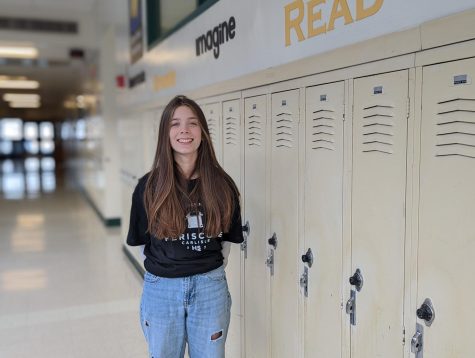 Kaylea Martin, Staff Writer
Kaylea is a junior at Carlisle High School and this is her first year being a part of the Periscope staff. She is a member of Student Class Council, Green...