Greeks and Geeks: "The Secret History" (Review)
Whenever I'm talking about literature with someone, I always preface the conversation with: Have you read The Secret History? 
The first book by elusive author, Donna Tartt, (often known for her Pulitzer Prize-winning novel, The Goldfinch) published in 1992, follows a small group of wealthy students at a liberal arts college in 1980s Vermont as they study ancient Greek under the guidance of an eccentric professor, Julian Morrow. Our narrator, Richard Papen, is a working-class boy from California that got into the college by luck and a scholarship, becoming immediately enthralled with the sophistication and seemingly limitless income from his classmates; so much so that he fabricates a glamorous, lavish past in order to fit into their clique.
The rest of the cast includes Henry Winter, a distant, aloof genius; Camilla and Charles MacCauley, a pair of beautiful twins that harbor a dark secret; Francis Abernathy, a known but not out homosexual; and Bunny Corcoran, a traditional New England boy prone to borrowing immense sums of money and getting under his classmates' skin.
The book immediately opens with conflict: the rest of the group has murdered Bunny and seemingly gotten away with it. However, this action is something that clearly haunts Papen as he says, "This is the only story I will ever be able to tell," giving us as the audience enough to push ahead; to learn rather than "whodunnit" but "why-dunnit?"
Papen was immediately enamored by the other five when he first laid eyes on them across campus, describing them as if they were more than human; possibly something even close to godlike. This type of admiration, teetering dangerously close to borderline obsession is seen throughout the rest of the book as Papen goes on to describe the events leading up to Bunny's murder and the subsequent aftermath. 
Please note that every single character in this book, including our narrator, is a terrible person. They have countless flaws, conduct inexcusable actions, and say horrible, heart-wrenching things. But that is exactly what makes this novel so incredibly addicting. Papen truly looks up to these people, those he considers his friends, and due to his own spoken ability at lying; we have no idea if this is the worst of it. Our narrator, our eyes into the story, is unreliable; giving us a truly layered tale that leads us to root for these characters despite their heinous actions.
I truly love this book. Tartt gifted us with a delectable book that brought its audience wholly into the psychological and intellectual world of her characters. Its title alone is a perfect one as we, like Papen, are being given a VIP membership to a select group. The initial secret has been omitted at the book's immediate opening, only because we have been reassured that plenty of others lies in store.
Trigger Warnings: abuse (emotional/sexual), alcohol, animal cruelty, anti-Semitism, drug use, fatphobia, grief, homophobia, incest, murder, PTSD, racism, sexism, suicide attempts, trauma, violence
View Comments(1)
Want to help the Herd? Please consider supporting the Periscope program. Your donation will support the student journalists of CHS and allow us to purchase equipment, send students to workshops/camps, and cover our annual website hosting costs.
About the Contributor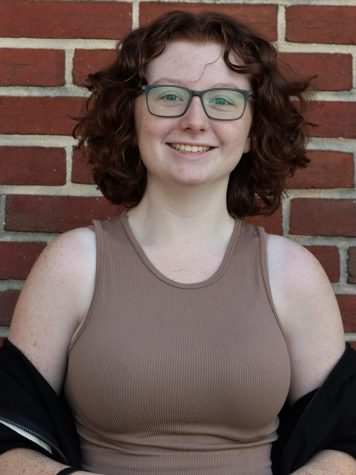 Ryleigh Underwood, Editor-in-Chief
Ryleigh Underwood is a senior at CHS and this is their fourth year on the Periscope staff. They are the manager of CHS's improv troupe, Wingin' It, the...