Lewis Capaldi meets Ruel: "Ghost Town" by Benson Boone (Review)
Benson Boone is a 19-year-old new and upcoming artist who released his debut single, "Ghost Town" in late 2021.  He uses TikTok as a platform to release sneak peeks and content of his new releases. When I first heard this song in a couple of videos, it gave me the same vibes as Lewis Capaldi's "Grace" and "Someone I loved" and Ruel's "Hard Sometimes." 

He had an audition for American Idol (season 19) but withdrew and started his career by releasing this single. In the song, he personally played the drums, guitar, and piano and emphasized his vocals to show his authenticity, because he stated that he didn't want to show the world something that he isn't.  

Boone wrote this song based on witnessing one of his friend's toxic relationships and on his own emotional development and maturity.

"I saw the situation from an outside perspective and wondered what they could have done differently. Love can hurt more than it can help," Boone said. "Sometimes the best way of showing someone you care is by letting them go." 

Official Music Video/YouTube

The lyrics, 

 "You know I'll stay don't you tempt me  

But all this weight is getting heavy  

Been holding up what wasn't meant to stand  

I turned this love into a wasteland,"  

shows how hard it can be to leave a relationship, especially a toxic one. Sometimes there is more dependence on one another than there should be, or a couple has just been together for such a long time. I think it brings a certain level of comfort knowing who you're with, even if you don't have romantic feelings, and not having to start new with someone else, even though it might be for the best to do so. 

Self-love is a major factor in the song's production. "Ghost Town" is about moving on and throughout the song, Boone states that through his lyrics: 

"Maybe you'd be happier with someone else 

Maybe loving me's the reason you can't love yourself"
View Comments(1)
Want to help the Herd? Please consider supporting the Periscope program. Your donation will support the student journalists of CHS and allow us to purchase equipment, send students to workshops/camps, and cover our annual website hosting costs.
About the Contributor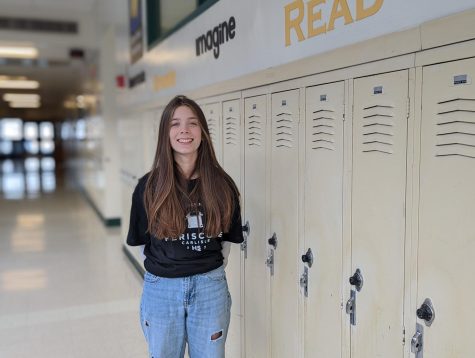 Kaylea Martin, Staff Writer
Kaylea is a junior at Carlisle High School and this is her first year being a part of the Periscope staff. She is a member of Student Class Council, Green...