Brewing up a storm: Coffeehouse presents '21-22 First Cup
On Friday, September 24th, from 7-9 PM, the CHS Coffeehouse program held its first concert of the year.  Despite almost three inches of rain the day before, the show was able to be held outdoors in the Fowler Courtyard.
A talent show of sorts, Coffeehouse allows the musicians and poets of CHS to perform and share their work with an audience.  The program began in January 2008, making this coming year its fourteenth year running.
Thanks to the courtyard remaining dry, and without the restrictions of mask mandates when gathering outside, students were able to perform mask-less.  COVID restrictions had much less of an impact on the program this year than they did last year when two out of three shows were virtual via Zoom.  There was no food sold at this show; however, at the merch table attendees were able to buy t-shirts, stickers, pins, or mugs to show their support for the program.
Advisor Jimmy Wilkinson said it was "so special to start the year off with a live, outdoor Coffeehouse."  As an advisor, Wilkinson is involved with Coffeehouse meetings and auditions along with fellow advisors Sue Hench and Grayson Rech.
"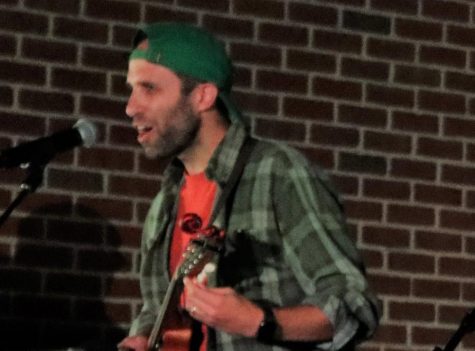 [It was] so special to start the year off with a live, outdoor Coffeehouse.
— Jimmy Wilkinson, adviser
Regarding the program's adapting during COVID, Wilkinson added, "We learned that we can do anything and survive anything because we have students and advisors that just love Coffeehouse and the music we play!  We will always find a way to make it work."
MCs Renee Blacksmith, Charlie Carlton, and Lola Gehman provided introductions for each of the 12 student musical acts.
Student performances were followed by the show's headliner, Cumberland Shakedown, who performed an array of both original songs and covers.  The band's members are the current and former CHS science teachers Wilkinson and Bruce Rowland.  They were joined by orchestra instructor and teacher Otto Kuehrmann on the cello.
Wilkinson commented that "there is nothing better than playing live."
For some, it was their first time on the Coffeehouse stage, and for others, their sixth.
Aroostine Lively's situation was the former.  She is a freshman and this was her first Coffeehouse.  She performed the song "The Night We Met" by Lord Huron, and was accompanied by sophomore guitarist Jay Barker.
She chose the song because she finds it "short and sweet and beautiful" and took her musical inspiration from her favorite artist, Harry Styles. Her favorite part of Coffeehouse was "being able to work with others and singing in a public place."
"I learned so much and it was a blast!" Lively said.
The accepting environment and energetic atmosphere were enough to entice her to audition again in the future, to many audience members' excitement.
As for MC and performer Blacksmith, a veteran of the program, this show was her sixth Coffeehouse.  She is a member of the legacy band "Under the Floorboards," which has been performing and adding new members for nine years.  The current rendition of the band features Blacksmith as the main vocalist, as well as vocals from James Crawford.  Fellow MC Carlton plays guitar for the group.
Blacksmith says that this rendition of "Floorboards" is special because they are "such a tight-knit group" and are "constantly making music" together.  Her favorite part of the program is "the energy and all the passion for music and spoken word."
Additionally, Carlton and Crawford have both had siblings in previous eras of the band, and Blacksmith says it's exciting to have that connection back to the roots of their group.
"I remember watching my sister perform in 'Under the Floorboards', and witnessed the incredible support from other students… I'm so glad that I'm able to feel those effects firsthand from those amazing people," Carlton said.
They performed "Somethin' Stupid" by Frank and Nancy Sinatra, featuring a solo by Blacksmith on the melodica.
The show was well attended, with about 150 students, faculty, and community members watching from the crowd.
If you are interested in participating in Coffeehouse, come to the next meeting on December 7 after school in Mr. Wilkinson's room, P212.  The next show is scheduled for January 7.
You can keep up to date with the program by following them on Instagram, @chs_coffeehouse . Additionally, if you missed the performance and want to hear some of Mr. Wilkinson's music, you can visit https://jameswilkinson1.bandcamp.com/ .
Leave a Comment
Want to help the Herd? Please consider supporting the Periscope program. Your donation will support the student journalists of CHS and allow us to purchase equipment, send students to workshops/camps, and cover our annual website hosting costs.
About the Contributor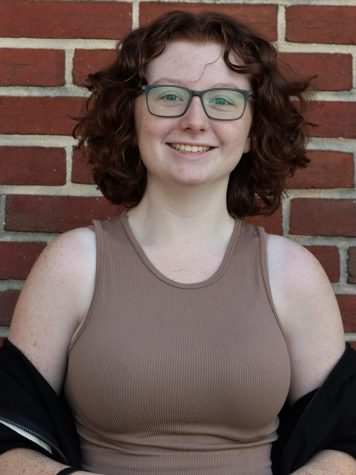 Ryleigh Underwood, Editor-in-Chief
Ryleigh Underwood is a senior at CHS and this is their fourth year on the Periscope staff. They are the manager of CHS's improv troupe, Wingin' It, the...