Covid Clear: "Your City Gave Me Asthma" (Review)
2020 was certainly one that will go down in history as a raging pandemic, wildfires in Australia, and political climates in turmoil gripped our world in their icy talons. However, there is a bright side to everything because, despite all of the bad things that happened last year, there has been a beam of hope: new music!
24-year-old Brighton artist Wilbur Soot, musically known as Wilbur, released his debut album, Your City Gave me Asthma on June 25, 2020. Soot is well known for his internet presence as a Twitch streamer and YouTuber. His claim to fame started when he ran the YouTube channel, Soothouse, with a group of his friends. After the channel was abandoned, he moved on to create an Alternate Reality Game (ARG) on JackSucksAtLife's YouTube channel, which is unsolved to this day. Wilbur has also released several satire songs such as "I'm In Love With an E-Girl," "Internet Ruined Me," and more recently, "Your New Boyfriend."
Spotify
To separate his gaming career with his more musical one, Soot released this debut album under the alias 'Wilbur,' as a way to make a serious name for himself. The album tracks only seven songs and can be completed in a quick 20 minutes. It's relatively simple in its chord progressions and instrumentals, most of the songs consisting of just Wilbur's voice and his guitar. However, this song tackles extremely heavy topics such as substance abuse, loneliness, and suicide.
The EP opens with "Jubilee Line," a haunting song that details the gritty underbelly of London, England. This song is about how much Soot had come to dislike London after developing a horrible cough that doctors said was pollution-caused that developed into asthma. However, towards the end of this song, the lyrics take a dark turn after Soot experienced people taking their lives on the London underground as he blames the city for putting the barriers up because the suicides were deterring tourism.
Two of my favorite pieces from this album, "Since I Saw Vienna" and "Losing Face," I feel are extremely underrated. "Since I Saw Vienna" opens with a gentle, soothing guitar style, the lyrics depict how Soot has traveled all over the world and how because of this, he feels he has an inability to settle down properly. On the flip side, "Losing Face" details the self-hate and out of control behavior Soot partakes in after his girlfriend leaves him for another man. The lyrics express insecurities about himself and doubts he feels as the song itself reads like an angry message to her.
The album's closer, "I'm Sorry Boris" shows how despite the anger Soot feels towards the government for ruining London, he doesn't want to leave the city. All of the people he cares about are here and he doesn't want to leave them behind. This song is a continuation of the one before it, "La Jolla," a song about figuring out what can make him leave London in the first place.
Your City Gave Me Asthma gives the audience a different, more personal look into Wilbur Soot's life. The simplicity in his instrument choices and the intricacy of his lyrics make the album a truly unforgettable one. Despite the topics that Wilbur tackles in this EP, he managed to make it relatable to the rest of the world as we all trucked through the monstrous year of 2020 together.
View Comments (2)
Want to help the Herd? Please consider supporting the Periscope program. Your donation will support the student journalists of CHS and allow us to purchase equipment, send students to workshops/camps, and cover our annual website hosting costs.
About the Contributor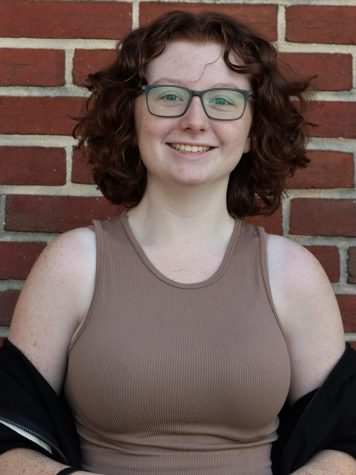 Ryleigh Underwood, Editor-in-Chief
Ryleigh Underwood is a senior at CHS and this is their fourth year on the Periscope staff. They are the manager of CHS's improv troupe, Wingin' It, the...