Take notes: How CHS is staying musical under lockdown restrictions
UPDATE: The music department will hold a virtual concert Thurs 12/17 at 7pm.  You can access the concert here.
Music is an important part of the lives of many students everywhere, and the pandemic isn't going to stop that. Most music-related programs, such as the concert band, marching band, chorus, orchestra, and Coffeehouse are continuing this year with extra precautions in place to keep things safe while retaining their musical value.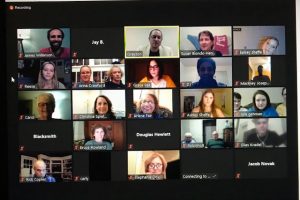 Coffeehouse has faced one of the more drastic changes, moving to a completely virtual event. Student musicians must now create a video that will be shown over a Zoom meeting to the audience, which can be difficult with multiple performers in separate locations. This new challenge has inspired creative solutions from several students. Some have opted to combine the different videos of each member of their group performing, while some even combined videos of a single person to create the same effect.
The second virtual Coffeehouse of the year, the Refill, will be held on Jan 22 at 7 pm.  Students interested in auditioning should check out the CHS Coffeehouse Instagram page (see below) for more information; audition videos are due by Dec 30. (article continues after the jump)
View this post on Instagram

According to the Minnesota Department of Health (https://www.health.state.mn.us/) groups such as concert band and chorus are considered "higher risk activities for COVID-19 spread due to the aggressive expelling of respiratory droplets. […] It is important to take extra precautions when participating in musical activities, especially if they involve vocalists and wind instrument musicians."
The Pennsylvania Department of Health hasn't made an official statement on the safety of music education.  Due to restrictions from the district based on guidelines such as above, both the band and chorus have been forced to take different forms to remain safe.  
"We stand as spread apart as we can on the risers on the stage [when in school]," said chorus member Grace Pak. "We have to keep our masks on while singing and admittedly it does make it more difficult."  
Not all musical programs can remain completely safe at all times, however. 
"[The wind instrument players] take off [their masks] when playing but put them back on as soon as they're finished. […] It's a bit of a nuisance, but it's manageable," said Giana Renninger, a drummer in the concert band.   
Now that we have moved to Tier 1 (remote learning only), things have had to change.
"With the short-term closure, it is a little harder," Pak said. "We meet on Zoom and [Mr. Schade] will teach each section their part.  Then we sing 'together' but keep everyone's mic muted so we can still hear his piano."
Concerts have been another obstacle. Neither the band nor chorus have scheduled a date for a concert, but both have plans to arrange a performance.  
"We did have a concert, but it ha[d] to be virtual," said Renninger. "Wind instruments have been turning in recordings of themselves playing their part at a certain BPM (beats per minute), but since percussion doesn't have our instruments at home, we take our recordings at school. […] Someone […] put all our parts together to make the song for the concert." 
Despite the challenges caused by COVID-19, the students of CHS have managed to make the most out of the situation and continue to create music together.
Are you a music student at CHS? Tell us about your experiences in the comment section below!
About the Contributor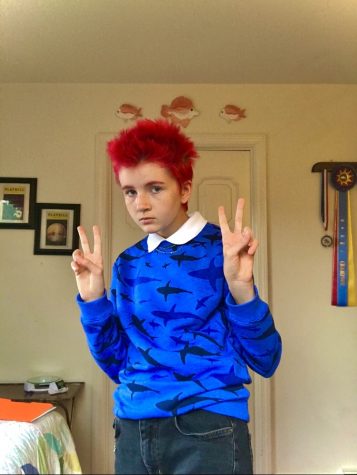 Jay Barker,
Jay is a freshman at Carlisle High School this year and new to the Periscope staff.  They like to do all types of art in their free time, such as pencil...