"A Brief Inquiry" into The 1975's new album (Review)
The 1975 is back with a very diverse and thought-provoking new album. Their third studio album, A Brief Inquiry Into Online Relationships, was released on Nov 30, 2018.
The dramatic opening in the first song entitled "The 1975" immediately caught my attention. A chorus of synthesized voices sings over a soft piano medley. First impressions are essential in music, and after the first track ended, I knew that I would like this album.
One of my favorite songs on the album, "The Man Who Married a Robot/Love Theme," is composed of only narration by Siri and a piano playing in the background. The narration tells a chilling story of "a lonely, lonely man" who "lived in a lonely house, on a lonely street, in a lonely part of the world."
This man is best friend's with the internet. As their relationship is described, the lyrics become increasingly dark in nature. In our current first world society, the internet is something we take for granted. It's a part of our daily lives, therefore, we don't often consider how the internet is destroying human connection. This experimental style of music reminded me of revolutionary artists such as  Daft Punk.
Another notable song on the album, "Love it if We Made It" tackles heavy topics in society. "Modernity has failed us," and the state of our world is rapidly decreasing. The music video for this song features a collage of chilling images of the horrors in our everyday world that many people turn a blind eye to.
The best albums make you feel a variety of intense emotions. The 1975 accomplishes this with poise. They speak very honestly through their lyrics and through listening to the music you can hear how much thought went into each of their songs.
The 1975 has been playing together since they were teenagers. After touring as the opening act for bands like The Neighbourhood and Muse, they began to work on their debut self-titled album. They were selling out shows before their album was officially released in Sept of 2013 and were also performing at venues like Coachella.
However, things haven't always been easy for the band.  Matthew Healy (guitarist and vocalist) has struggled with drug addiction.
"It was the polarity between connecting with 10,000 people and then going to a hotel room by myself," said Healy during an interview with Rolling Stone magazine. "Mass acceptance and genuine loneliness. It was easier to meditate that with drugs."
After spending time in rehab, Healy has been clean from hard drugs for a year.
The band is already working on Notes on a Conditional Form, a new album which is scheduled to release in June of 2019. If they continue what they're doing, then I believe the 1975 is on track to be one of the best bands rock/pop bands of our time.
Leave a Comment
Want to help the Herd? Please consider supporting the Periscope program. Your donation will support the student journalists of CHS and allow us to purchase equipment, send students to workshops/camps, and cover our annual website hosting costs.
About the Writer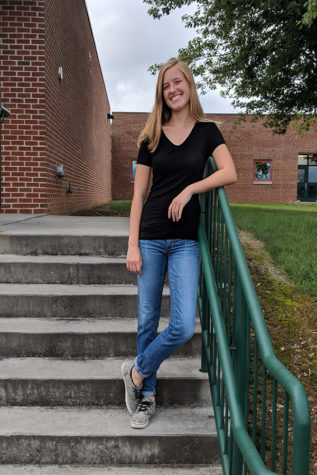 Carol Etzel, Magazine Editor-in-Chief
Carol Etzel is a senior at Carlisle High School. This is her second year as Magazine Editor-in-Chief. Along with Periscope, she also plays the clarinet...