'Shape' of the 'Castle on the Hill': Ed Sheeran's newest songs (Review)
Hang on for a minute...we're trying to find some more stories you might like.
There comes a time when the old formula of sex, drugs, and violence in music videos and albums gets a little old. Note that there is nothing wrong with creative choices that most musicians make when writing a song or directing the video.  It's part of the creative freedom that makes music so beautiful. But you hear songs about a woman's rear end enough, it kind of gets repetitive. While a majority of people like the current mainstream music flow, there is hope for those who do not.
There is no need to be confined to this standard that has been set when there are people like Ed Sheeran blessing the world with his talents. That is laying it on a bit thick there but bear with it for a moment.
Sheeran has made many songs and has come out with five albums (not counting some of his live performances and deluxe versions of the albums) and each one is very different and unique than the last. In his most recent releases, "Shape of You" and "Castle on the Hill," the Irish musician has really outdone himself.
These songs were released Jan 6 of this year and "Shape of You" was number one on the US Billboard Hot 100 and "Castle"  number 6 at their peak.The ratings speak for themselves; these songs were hits.
Both of these songs are kind of an intro to Sheeran's album coming out March 3 called Divide. As for music videos, each brought around 30 million hits for each of the them. Don't even ask about the official lyric videos that came out with the songs release (90 million for "Castle" and twice that for "Shape of You").
The music videos were both directed by the singer himself and he really brought both of the tones and feelings of the songs to life.
"Shape of You" shows Sheeran boxing at a gym, meeting a women and falling in love. The video contains a lot of montages of the two of them training and going on dates, but when the song reaches its climax, she leaves him. The reason is never shown. Then it goes into his anger and angst for losing her, all leading up to a big "fight" he has.
When his opponent is revealed, it shows a sumo wrestler standing toe to toe with a now fat-suited up Sheeran.  After a quite comical takedown from the sumo wrestler, right at the moment when the big man thinks he won, the girl comes back and goes for a jumping kick; the video ends right before the impact.
Sheeran likes to add a bit of humor to his videos even if the song doesn't really warrant it. A lot of people love that; some think it's out of place and takes away from the song. It's all subjective really.
You can watch this music video here:
The video for "Castle on the Hill" is much more serious. There is less of a narrative to this one. The whole song is about his friends, when he was a teenager, and what his life used to be like. They cast a young look-a-like to play the adolescent Sheeran and the resemblance is uncanny, really driving home the fact that Sheeran is an adult now.
It has several shots of Young Sheeran and his friends hanging out, singing, and at one part getting his first kiss. It also flashes back and forth from the present adult Sheeran passing through his hometown, no doubt remembering all the events shown. The whole song and video is about nostalgia and missing being a teenager which so many people can relate to.  
The video ends with the Adult Sheeran sitting around with his old friends, drinking beer and having a good time. Just like their glory days. There's something to be said about how, unlike a lot of music videos these days, the only suggestive thing about either of these videos is a sprinkle of violence and underage drinking. That is really tame compared to most music videos that get this big.
Watch it here:
Both the songs and videos did so well and for good reason. They both had substance, actual good music and vocals, great casting and acting, and most of all an artsy and beautiful feel. These songs have set the stage for the new album phenomenally and stood alone just as well.

About the Writer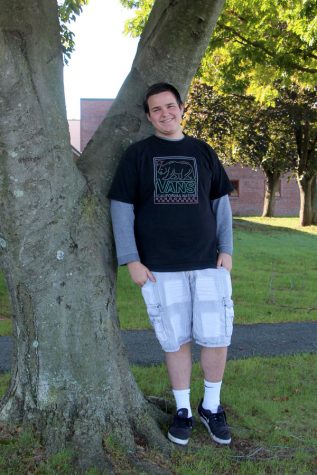 Griffin O'Hagan, A&E Writer
Griffin O'Hagan is currently a senior at Carlisle High School and this is his first year on staff.  He writes for the A&E section on the website but...