Home is where the heart is: finding solace in Taylor Swift's legacy (Editorial)
Picture this: you're 5 years old and your sister brings home Taylor Swift's newest album Speak Now. You're ecstatic and you run to the cd player in her bedroom, where shortly thereafter "Mine" plays through the speakers and you dance your tiny heart out! At a young age, you have already fallen in love with this music. 
This was my reality. Almost everyone has a comfort place, item, show, or person. Swift has been my place of familiarity my entire life. I was born in 2005 and her self-titled debut album was released in 2006, which my older sister bought nearly immediately. Like Swift, I grew up in a small farm town in the middle of nowhere Pennsylvania. As I grow older, I find myself growing with her. When I was in elementary school, the youthful melodies of "Stay Beautiful" and "You Belong With Me" were exactly the fit for me. Now that I am 16, the same age Swift was when releasing her debut album, I find myself returning to these younger songs and being captivated by the nostalgia harbored in her new songs such as "seven" from her 8th album folklore released in midsummer of 2020. 
Check out our playlist of Jenna's favorite T-Swift songs below
There is a certain connectivity that people form with seemingly random things in times of need or hardship. Some find a love for cooking or baking, and some have a knack for art and painting. I analyze Taylor Swift song lyrics. Safety in the familiar is not a new concept and is often reflected in the smallest habits of one's day. Most people have essentially the same morning and/or nighttime routine because it is predictable and efficient. As discussed in episode 445 of the podcast No Stupid Questions, the same logic applies to those things that we as individuals cannot exactly explain. It would take an army of neuroscientists and psychologists to describe why my love for Swift and her music runs so deep, but I can explain how her music makes me feel. Sometimes, her lyrics apply directly to my life such as those of "this is me trying" and sometimes I like to get lost in the imaginary worlds and imagery she paints in her lyrics and melodies. 
For example, in "no body, no crime (feat. HAIM)," Swift describes an old-fashioned murder mystery. It has all the motifs of a 50s radio show: the mistress, the jewelry, the wine. The speaker of the song discovers that their best friend, Este, has been murdered by her husband and his mistress. Through the lyrics of "But I ain't letting up until the day I die," the speaker discusses their desire to seek revenge on the husband and mistress through bloodshed. The bridge and final chorus of the song conclude the story with a dead husband, framed mistress, and a successful speaker. In only 3 minutes and 38 seconds, Swift, with the help of sister group HAIM, creates a story that plays out ever so vividly before the listeners' minds. For the same reason many get invested in the worlds of Harry Potter and Avatar: The Last Airbender, music listeners get lost in the universe these songs create for us. 
There is a popular sentiment for a lot of romantics that every individual is just a combination of pieces from those around them. This is heavily reflected in how we interact with our fixations and hobbies. It's common knowledge that adolescents and children are greatly susceptible to the influence of those they value. Whether someone buys a pair of shoes because their favorite athlete wore them or watches a movie because their favorite actor is in it, everyone is an acclamation of their favorite things. If it weren't for the lyricism in Speak Now and Red, I would probably not be writing this article right now. Poetry is one of my main outlets for all the strange and unfamiliar emotions I feel running through my day. The words of advice and scenarios laced into Swift's music always come back and remind me that I am not alone in my constant need to write sappy rhymes about my experiences. No matter the song, she has always been the rhythmic beat playing through my headphones, matching that of my own unpredictable heart.  
Some of my first words were the lyrics to "Tim McGraw," which oddly enough could be called Swift's first words in the music industry as well. I remember dreaming of the day I would turn 15, finally walking through the doors of high school and kicking off my freshman year, just how Swift describes it in her hit single "Fifteen." When that day finally arrived, and I turned 15, I had a newfound kinship with the song. Now that I am 16, I like to listen to the comforting lyrics of "A Place in this World," as I struggle with finding my sense of self like many others. No matter how old I am or what I am going through, I can always turn to Swift to keep me grounded. 
"
Taylor Swift doesn't know me, and she may never know me, but I know her, and that is all that matters to a girl trying to find her place in this world. "
Now that I am older and have a more mature understanding of the world around me, Swift also has a more mature understanding of the world around her. The intricate lyrics of "the lakes" provide the comfort that I sometimes need and cannot receive from my coeval peers. I have a new appreciation for the deep and cathartic songs that Swift releases. A lot of people have a similar notion about their places of comfort. These things provide stability for the consumer and an intense bond with the comfort item as well. Humans are complex beings that need predictability to keep us from running around crazy.
From 'Debut' to evermore, navigating high school with Swift's musical diaries to guide me is so much easier than doing it alone. Taylor Swift doesn't know me, and she may never know me, but I know her, and that is all that matters to a girl trying to find her place in this world. 
What's your comfort go-to? Want to win a free t-shirt? Comment below with your name and email address and you will be entered to win our Periscope t-shirt contest. Sorry–open only to current CHS students and staff.
Disclaimer: Articles designated as "Editorial" represent the views and opinions of the author, not the 2021-2022 Periscope staff, CHS/CASD administration, or the CHS student body.
Leave a Comment
About the Contributor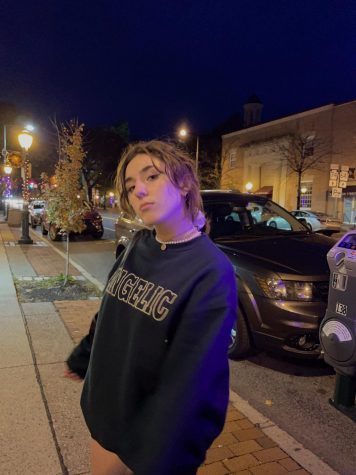 Jenna Coller, Perspectives Editor
Jenna is a 16-year-old sophomore at CHS and this is her first year on the Periscope staff. She loves being social and getting to see the perspectives of...