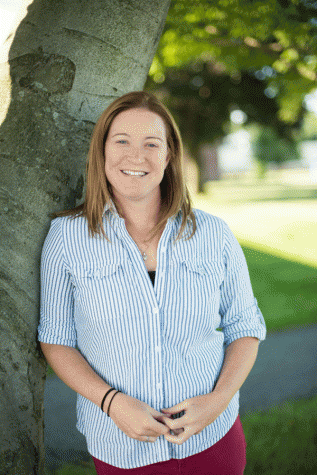 This is Mrs. Muir's 7th year advising Periscope and she loves it more every year!  This year, she also took on the role of yearbook adviser (Oracle).  She is also an English teacher at Carlisle High School, teaching seniors in AP English Lit and 12th grade, option II (even one virtually!).  Her favorite books include
The Night Circus, Ella Minnow Pea, Little Bee,
and
The Time Traveler's Wife.
  She loves to travel, especially with her favorite travel companions: her husband, her son, and her Shetland Sheepdog.
Kate Muir, Adviser
May 11, 2018

Preparing for prom: students to visit a "City of Stars"

(Media)

Apr 23, 2018

Joining the Herd: advice for incoming freshmen (Video)

(Media)

Feb 21, 2018

A weighty decision: Which gym is best?

(Media)

Sep 24, 2015
Dec 18, 2017

Countdown to Christmas: Movie Contest

(Media)

Oct 30, 2017

Hiking into fall: trails of Carlisle

(Media)

Apr 12, 2017

Springing Forward: CHS athletes make college commitments

(Media)

Apr 03, 2017

Shakespearean Success: CHS honors Hench for dedication to Troupe

(Media)

Feb 02, 2017

Carlisle Winter Signing Day

(Media)

Jan 31, 2017

Scholastic Art and Writing Competition 2017 Gold Key Winners

(Media)

Jan 06, 2017

Cinderella's lost slipper finds its way to CHS

(Media)

Nov 16, 2016

Advice for America: Five tips for life post-election (Editorial)

(Media)

Nov 11, 2016

Celebrating victory: The girls tennis team made it to team districts

(Media)

Nov 04, 2016

CHS trainer Richard "Burkie" Burkholder honored for years of service

(Media)

Oct 31, 2016

Treat yourself to these Halloween movies

(Media)

Sep 16, 2016

Should Students be Forced to Volunteer? (Editorial)

(Media)

May 17, 2016

Perks of writing outside school (Editorial)

(Media)

Feb 04, 2016

Moving on to other fields: students sign with colleges

(Media)

Dec 22, 2015

More than just social media: use these apps for stress management

(Media)

Nov 12, 2015

Running into the future: Wisner and Kole sign with colleges

(Media)

Apr 16, 2015

Six seniors signed letters of intent at Spring Signing Day

(Media)

Apr 07, 2015

Win 2 Tickets to see All Time Low!

(Media)

Feb 22, 2015

Snails vs. Racers: the halls of CHS

(Media)

Apr 28, 2014

Financially preparing for the future? Take it one year at a time

(Media)

Nov 21, 2013

Children's Grief Awareness Day (Photos)

(Media)

Nov 01, 2013

Swimmers plan to dive in for a good season

(Media)